Gospel of St. Luke 24:36-53

36 Now as they said these things, Jesus Himself stood in the midst of them, and said to them, "Peace to you." 37 But they were terrified and frightened, and supposed they had seen a spirit. 38 And He said to them, "Why are you troubled? And why do doubts arise in your hearts? 39 Behold My hands and My feet, that it is I Myself. Handle Me and see, for a spirit does not have flesh and bones as you see I have."

40 When He had said this, He showed them His hands and His feet. 41 But while they still did not believe for joy, and marvelled, He said to them, "Have you any food here?" 42 So they gave Him a piece of a broiled fish and some honeycomb. 43 And He took it and ate in their presence.

44 Then He said to them, "These are the words which I spoke to you while I was still with you, that all things must be fulfilled which were written in the Law of Moses and the Prophets and the Psalms concerning Me." 45 And He opened their understanding, that they might comprehend the Scriptures.

46 Then He said to them, "Thus it is written, and thus it was necessary for the Christ to suffer and to rise from the dead the third day, 47 and that repentance and remission of sins should be preached in His name to all nations, beginning at Jerusalem. 48 And you are witnesses of these things. 49 Behold, I send the Promise of My Father upon you; but tarry in the city of Jerusalem[d] until you are endued with power from on high."

50 And He led them out as far as Bethany, and He lifted up His hands and blessed them. 51 Now it came to pass, while He blessed them, that He was parted from them and carried up into heaven. 52 And they worshiped Him, and returned to Jerusalem with great joy, 53 and were continually in the temple praising and blessing God. Amen.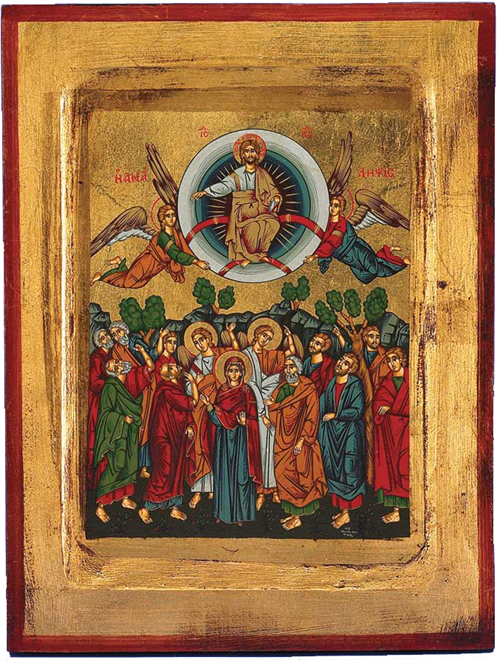 We are accustomed to our body, we accept that it gets tired, requires nourishment, experiences pain, suffers from all kinds of limitations.  We start thinking that this is the way that it should be.  However, the human nature that we see in the resurrected body of Christ the Saviour has completely different characteristics simply unattainable in the animal world.
We see Christ's body in the flesh walk through walls.  Though we see that He is able to eat food, He, nonetheless, does not require it.  We see His flesh retaining as a memory the wounds from the nails with which His body was affixed to the cross.
The Ascension of the Lord asserts a very important Christian truth.  We see true humanity in the Person of Christ the Saviour.  The human nature which our life teaches us to perceive as weak, feeble, sickly, and dying, in Christ becomes something totally different, something that knows no constraints of the flesh, something that knows no pain, nor suffering, nor, most importantly, death.
Having once risen from the dead, Christ cannot die again. And that is exactly what explains the Christians' reverential treatment of the human body already here on earth, in anticipation of the universal resurrection.  And it is by means of this feast that we learn the reason for the existence of the Orthodox Church, the reason for the veneration of the relics of the saints, the reason for the respectful treatment of the bodies of saints who have not yet been glorified.
May the Lord help us in celebrating this feast to treat the bodies of each other not as temporary resting places of the soul, but as true temples of the Holy Spirit in which He is supposed to live and act.
Translated from the Russian by Maria Nekipelov