March 5, 2013
The Department of Ecumenical Relations and Development (DERD) of the Greek Orthodox Patriarchate of Antioch and All the East has delivered around 75,000 humanitarian aid kits to an estimated 280,045 individuals in Syria amidst its on-going conflict.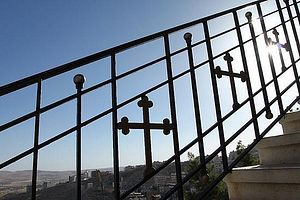 The Greek Orthodox Patriarchate of Antioch and All the East is a member church of the World Council of Churches, based in Damascus, Syria.
According to recent reports issued by the United Nations, more than 60,000 people have been killed in Syria, while nearly a million have been displaced due to the armed conflict.
The DERD has been distributing food and non-food items to the affected people around Damascus. It has been providing assistance in the areas of housing, health, nutrition, education and psychological support.
The organisation is also implementing an emergency programme distributing warm cloths, blankets and stoves to help people get through the harsh winter.
"With the help of God, and your support, we can reach these families in need and provide them with life-giving care. Our resources are limited and we appeal to our Diaspora, friends, and partners to continue to assist the people of Syria," said Samer Laham, director of the DERD.
To meet the increasing needs of the people caught up in conflict, the DERD is working in partnership with the ecumenical ACT Alliance through the ACT member organisation International Orthodox Christian Charities.
Source: Ekklesia