April 16, 2013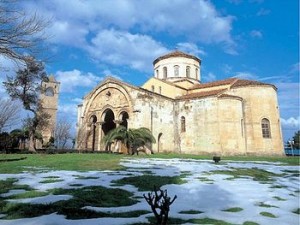 In his interview with the German Hurriyetnewspaper, the Mufti of Trabezon (Trabzon) confirmed, "that work on conversion of the Orthodox Church of St. Sophia to a place of prayer meetings for Muslims is continuing at an accelerated pace".
Answering the question, "What will happen with unique Christian frescoes", the Mufti assured that "they will not be touched—they will just be curtained off".
Hagia Sophia in Trabezon is monument of Byzantine architecture. Besides, unique frescoes and mosaics have survived here. The cathedral was built between 1238 and 1263 by Manuel I. In 1461, Mehmed II invaded Trabezon and converted the cathedral into a mosque. In 1964, the former cathedral became a museum after restoration works had been carried out in 1958-1964 by Edinburgh University.
As before, talks on giving another Christian Church—the Cathedral of St Sophia in Constantinople—to Muslims are continuing. However, in the case with this Church, decision must be made not by local authorities (as it has happened in Trabezon), but on the level of Turkish government. The Turkish press does not rule out that the Trabezon Cathedral was some sort of a rehearsal for the conversion of the Hagia Sophia in Constantinople into a mosque, reports Agionoros.ru.
Source: PravoslavieRu