April 17, 2013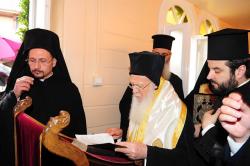 The Pancyprian Gymnasium of Nicosia, the oldest secondary school of Cyprus, a school with a history of 200 years, visited Istanbul and made a pilgrimage to the Phanar.
The director, Solon Charalambus, the Bishop of Paphos Georgios, the teachers and the students visited the Church of St. George and met with the Ecumenical Patriarch Bartholomew in the Throne Room.
The primate of the Orthodox Church expressed his great pleasure for the visit and for its excellent, as he said, participation in the student conference "150 YEARS K. P. KAVAFIS".
The Ecumenical Patriarch pointed out that the Pancyprian Gymnasium is one of the schools of Hellenism with a glorious history and contribution to education. He referred to the diverse work of the Ecumenical Patriarchate. He also praised the fraternal relations between the Ecumenical Patriarchate and the Church of Cyprus and he assured that there is harmonious cooperation on the major issues of Orthodoxy and other issues.
The Bishop of Paphos, Georgios, said that he found the minutes of the Synod in the time of Makarios, who pointed out to the Cypriot Hierarchs to stay close to the Ecumenical Patriarchate.
The director of the Pancyprian Gymnasium, Solon Charalambus, stressed that the life of the Ecumenical Patriarch Bartholomew constitutes a route of contribution and deep Christian love and awarded him, according to the decision of the teaching staff, which was written on parchment, the Pancyprian Gymnasium's silver prize of excellence, whose one side depicts the entrance of the school and the other the figure of the National Martyr Cyprianos.
Also, the Pancyprian Gymnasium honored the former director of the Zografeion School and Lord of the Ecumenical Throne Dimitrios Fragkopoulos, who was awarded a plaque with silver olive branches – a symbol of peace.
Source: Greek Reporter