It was once said in Sarov: "In the midst of summer they will begin to sing Pascha." Seventy years passed after the death of him who spoke these words. Then on July 19, 1903, all of Rus' resounded with songs of praise, glorifying God and His saint. Indeed, all of Rus' then exalted as on the day of Holy Pascha, and even more so.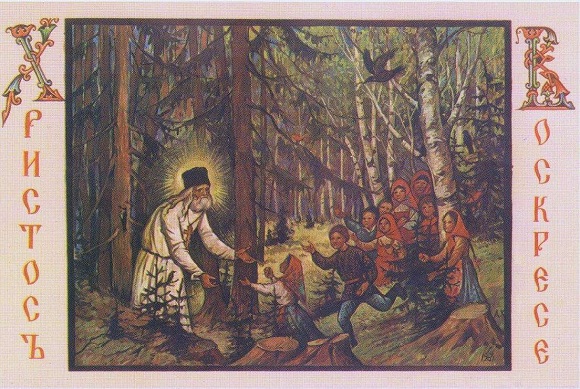 Then came terrible days for Russia, yet the memory of St. Seraphim neither died nor weakened. The Russian people continue to stream to him, glorifying him both in the tormented Homeland and wherever they are scattered throughout all the ends of the world. Other nations are also becoming acquainted with the life of St. Seraphim; his life has been translated into various languages, causing not only delight, but also inspiring many to apply the lessons given in the life of St. Seraphim to their own lives. Thus, regardless of all the changes taking place in the world, the memory of St. Seraphim has not only not faded, but remains a lamp shining ever brighter upon humanity.
Such was the case even during his earthly life. Cities collapsed and kingdoms were restored; Napoleon entered Russia with twelve nations and then withdrew in disgrace; Moscow burned and then rose again from the ashes; the Decembrists staged an uprising and then went on trial. But these events did not concern St. Seraphim, as it were. He was wholly concerned with acquiring the one thing needful and working towards his spiritual growth. Many thinkers would have called him "an egoist, enclosed within himself" or "an ignoramus, uninterested in anything that did not concern him personally," not wanting to see even the slightest good in his struggle for self-perfection. But then the monk Seraphim dies. It would seem that now the image of this Elder, who had fled the world so stubbornly, should become completely effaced from people's memory. But a whole pilgrimage to his grave begins. People from all over Russia who have recourse to him receive help, consolation, and edification; his veneration also begins to spread among other nations.
Wherein was St. Seraphim's strength? Wherein was his ascetic struggle? He sought to fulfill Christ's commandment: Be ye therefore perfect, even as your Father which is in heaven is perfect [Matthew 5:48]. He labored to restore the first-created image of man, later corrupted by sin. St. Seraphim achieved his intention: he conquered sin and became a saint, truly becoming like unto God. We cannot see the unseen God. But the Lord grants us to see Him in those who are like unto Him, in those who please Him. And St. Seraphim became one of those like unto God. In him we see human nature restored, freed from the bondage of sin. He is the embodiment of the victory of eternity over the transient, of holiness over sin, and of good over evil. By his example, St. Seraphim summons us all to follow the path indicated by Christ. He calls upon us to battle against our sins and shortcomings; he is a beacon and lamp for all who seek salvation. St. Seraphim summons us to search for the highest good, for the fruit of the Spirit of which the Apostle Paul speaks: But the fruit of the Spirit is love, joy, peace, longsuffering, gentleness, goodness, faith, meekness, temperance. But for this one needs to crucify the flesh with the affections and lusts [Galatians 5:22-24].
The path to the Heavenly Kingdom is hard, for sin has overcome and spoiled human nature. Each of us has personal sins. There are also societal sins, in which the entire nation sins. Thus the entire Russian people sinned in abandoning the pious life and customs of its ancestors and beginning to accept and seek out that which was non-Orthodox and alien to it; it believed the slanders spread about God's Anointed, allowing itself first to tear the crown from and then kill, along with his entire family, the pious Tsar who had been the first to venerate St. Seraphim's newly-glorified relics. St. Seraphim called all to repentance and correction of life, both personal and societal. Though this path is hard, this God-pleaser will help us follow it. St. Seraphim is a beacon and lamp on this path; he is also our helper.
Through the prayers of our Venerable Father Seraphim, O Lord, grant repentance and victory over sin unto us, sinners, leading us into Thy Heavenly Kingdom. Amen.
Serbia, 1928
Translated from the Russian