October 28, 2013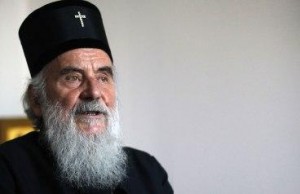 JAKARTA — Head of the Serbian Orthodox Church (SPC) Patriarch Irinej has described inter-religious relations in Serbia as "harmonious."
Irinej last week headed a religious-state Serbian delegation on a several-day visit to Jakarta, Indonesia.
According to Tanjug, the patriarch said that "there are no such (harmonious) relations in Kosovo and Metohija where ethnic Albanians declared independence unilaterally."
He thanked Indonesia for not recognizing the declaration, and said Kosovo was Serbia's holy land with over 1,500 churches and monasteries.
The patriarch and his Indonesian hosts "agreed that religious conflicts occur when politicians abuse religious issues," according to the news agency.
Irinej "wrapped up the visit saying that the Serbian delegation had a great pleasure to visit the wonderful and blessed land of Indonesia and its people."
The Serbian delegation visited in Jakarta the largest Islamic organization in Indonesia, Nahdlatul Ulama, led by Said Aqil Siradj.
During the visit to Nahdlatul Ulama, head of the Islamic Community of Serbia Mufti Adem Zilkić said that there were "more than 45 national communities and seven traditional churches and religious communities in our homeland Serbia."
"The Islamic Community acts as a traditional religious community and is equal to other churches and communities with that status," he noted.
"Religious relations in Serbia have never been better, and Muslims have found themselves on both sides of the forcibly established border when Kosovo declared independence unilaterally," he stated.
"The problems in Kosovo are not religious, but national in their character," he stressed. He advised his Indonesian hosts "to use caution and not accept Kosovo's unilaterally declared independence easily."
"As a Muslim, he asked the officials of Nahdlatul Ulama to support their government in maintaining a consistent view concerning Kosovo, so Muslims would not have to live on two sides of the border," Zilkić was quoted as saying.
Source: B92