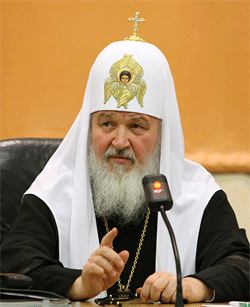 Moscow, August 16, Interfax – Patriarch Kirill of Moscow and All Russia has said he is inspired by the present-day state of relations between the Church and the state.
"It is maybe for the first time that the principle of the church's separation from the state, proclaimed as a result of the October Revolution, is followed quite correctly today," he told the Polish media ahead of an August 16-19 visit to Poland at the invitation of the Polish Orthodox Church metropolitan.
The result of this principle is that the state and the Church are "autonomous from each other," the Primate of the Russian Orthodox Church said.
"We are not interfering in each other's affairs. We appreciate this autonomy. The Russian Church highly values the freedom and autonomy it enjoys today," he said.
There is not a single normal state that can stay indifferent to ethic issues, he said.
"It is impossible to keep regulating human relations eternally only by raising the level of legislation, bolstering law enforcement agencies and improving courts," the Patriarch said.
"All this can produce positive results, but they will be unable to stop a person from entering a movie theatre and killing people there. They will not be able to stop people from committing other insane acts, when parents abandon their children and children kill their parents," Patriarch Kirill said.
Even the most perfect legislation and judicial system are incapable of guaranteeing protection from crimes because crimes are committed by people themselves, he said.
"Any sensible government understands the pragmatic meaning of morality in social relations. A moral person is a law-abiding person even if he does not know the laws," the Patriarch said.
Alcoholism, drug addiction, prostitution and growing abortion rates are among the issues on the agenda of relations between the Church and the state, he said.