July 21, 2013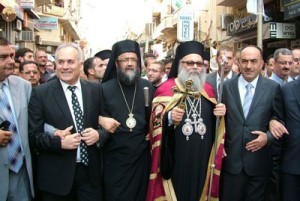 Tartous, (SANA) – Patriarch John X Yazigi of Antioch and All the East for Greek Orthodox Church stressed the importance of dialogue among all Syrians, calling on the Syrian people to support the political solution for Syria to remain one and united.
During a thanksgiving prayer at the Lady Church in Tartous city, Patriarch Yazigi pointed out that whatever the difficulties are gruesome, they will not be able to "take us away from our land, our beloved Syria."
The Patriarch added that the Syrians are setting the best example for tolerance and coexistence, and Syria will remain the homeland for peace.
He offered condolences to the mothers and families of the martyrs who were the victims of the bloody events witnessed recently in Syria.
For his part, Mufti of Tartous, Mohammad Ismael, said the Patriarch's visit to Tartous represents the values of amity and tolerance.
Source: SANA