July 13, 2013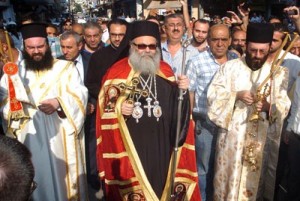 Lattakia, (SANA) – Patriarch John X Yazigi of Antioch and All the East for Greek Orthodox Church stressed that the Syrian people are committed to the territorial integrity of Syria, adding that efforts should be exerted for Syria to restore peace, security and stability.
During a visit to Lattakia province, Patriarch Yazigi added that Syria is an example for national unity, expressing hope that the crisis would be resolved.
He called on the neighboring countries to exert efforts for peaceful political solution to the crisis in Syria which was and will remain the homeland for dialogue, fraternity, amity and peace.
Source: SANA