Source: Canadian Orthodox Messenger
As so often happens with a pilgrimage, one must be ready for all kinds of obstacles and changes of plans. This is not just because we are sinners, which is true, and our sinfulness sometimes impedes blessings. It is also because sometimes the Adversary sends obstacles to our intention of doing what is right and pleasing to the Lord. Often it is not at all easy to discern which is which. Therefore, it is important that we always call to the Lord, and to ask for the blessing, not just to assume it is there. And then doors may open in an expected manner, or there may be significant changes. Always giving thanks to the Lord, we must be ready to accept whatever comes to us, and to glorify Him, regardless, as we live under His protection, and that of the Theotokos. One hears frequently of this situation with Spruce Island in Alaska — that one cannot get there from Kodiak (or even on and off Kodiak Island itself) unless the weather permits. Often this is understood to include the blessing, or not, of St Herman. This is so elsewhere too, not just in maritime environments. Also, regardless of attempts to express the experience of a pilgrimage, no one can manage, really, to put this into words. One can only give a summary suggestion of the experience.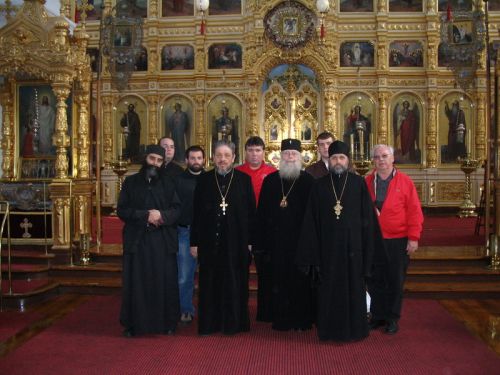 Our flight took us first to Athens, then to Thessalonika, where we arrived mid-Sunday afternoon. We knew we had only the "inside" of a week. Upon arrival, there was just time to find supper, because the eating-places were soon closing. We discovered that Thessalonika, clearly still a Christian city, has its shops closed on Sundays, and likely major holy days too.
I had hoped for many years to have the blessing of visiting the Holy Mountain, Mount Athos. In our days, when we think everything should happen automatically, according to our plans, still, the Lord has ways of showing us the correct perspective. And so, although we had arranged, according to the correct manner for approaching the Holy Mountain (even though our pilgrim-group of eight was larger than the usual maximum size of five), we began on our first morning to encounter the application of "man proposes, God disposes." We arose very early, but on arriving at the bus-station, we found that the bus we had expected to take us to Ouranopoli was cancelled. When we finally did arrive in this little village, we discovered, after some searching, the Pilgrimage Office. There, they had no record of us, although they eventually did issue the travel documents for the Holy Mountain, which is an autonomous Monastic Republic within Greece. Having received these, we were told that the weather was too poor for the boats to travel that day. Thus we had time to walk around the village, eat, talk, and rest. In the course of this, we encountered many Russian-speakers, to our surprise, as well as a bus of pilgrims from Moscow. We spent the night in a hotel, because there is no place available to help pilgrims in this situation. There, we met both Russian and Moldavian pilgrims. We also were given all sorts of advice on how to maximize our experience of the monasteries during our short time on the Holy Mountain.
The next day, we rose, again very early, to take the 6:30 ferry. This time the weather was calm enough. The "slow" boat, which also carries vehicles, was one of several of different sizes that serve the monasteries; and it was loading with monks, various kinds of lay-workers, visitors, and radesmen. Fast boats are also available, at a higher price. As the sun began to rise, we sailed away, and we passed the next two hours in disembarkments at monasteries and sketes on the south side of the peninsula, ending our own part of the trip at Daphne, the main port. There a mini-bus met us by pre-arrangement, and with our Romanian driver from Karakallou, we began our journey on the Holy Mountain itself. Several of our intended stops were inaccessible because of construction. Therefore, our first stop was on the north shore, at Vatopedi, the parent monastery of our own Fr Pierre (Vachon), whom the older monks remembered well. Vatopedi is a regular visiting-place, by the way, of Prince Charles. We were very kindly received here, and guided.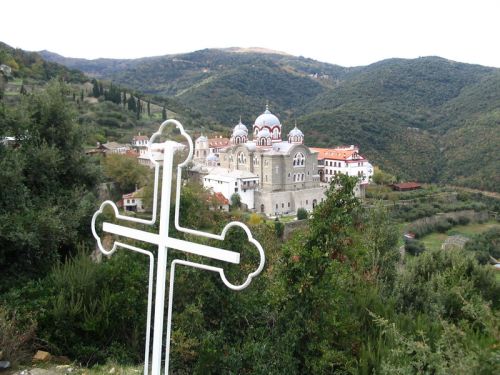 This monastery has very ancient monastic roots, going back to the time of the Emperors Constantine and Theodosius, when it was civil territory. It has a large population, with a number of dependent sketes and cells. Then we were driven to Karyes, to St Andrew's Skete, which is under reconstruction, although its buildings are nevertheless beautiful. This and other monastic buildings are often quite arge, reflecting past large populations. Fr Ephrem, who greeted us here, reminded us that living in larger communities does not often work well with western, modern man, because we are so used to living to ourselves. He expressed the hope that future pilgrims from Canada would visit St Andrew's. He expressed the readiness of this community also to pray for people, if requests are sent. We also visited the Protaton, and the Icon "Axios estin," which has all kinds of scaffolding, inside, and out.
Karyes is a kind of centre for the Holy Mountain, often called its "capital," and there are some monastically operated shops there. Then we proceeded to Pantocrator Monastery. Writing like this makes it seem like an easy operation. Not so. Historically, until recently, people went to the monasteries by foot, by boat, or by donkey. Now, with roads, vehicles of various sizes are more used; but the roads are very difficult, and some require special vehicles. In the monasteries' churches, we always met a monk who had enough English to tell us something about the monastery, and its wonder-working icons, and its relics. Sometimes, if the priests were available, we were able to venerate the holy relics that were not generally available to every visitor. Because of the long history of some monasteries, and their "proximity" to Constantinople and Thessalonika, there are many relics of well-known saints from early times.
After Pantokrator, we went to the Prophet Elias Skete nearby, then to Stavronikita, and finally to Iveron. There, we joined Vespers, Paraklesis (in the chapel of the Portaitissa Icon of the Theotokos), supper, and Compline (with Akathist). As we progressed, we also were informed about the inter-connected histories of these monasteries. This is so, even in these days. The renewal of these communities' life has been enabled by the movement of groups of monks from one community to another. In this case, Iveron was revived by the arrival of monks from Stavronikita. The communities are all repairing their buildings, and the spiritual life is now strong, and the monks are becoming again very numerous. Some communities, like Vatopedi, now number about 100 in the main community, and there are many more living in dependent communities. Iveron Monastery, which was founded by Georgians, is one of the oldest three monasteries. Its wonderworking Icon, the Portatitissa, is represented in Moscow in Red Square, in the Ivirsakaya Chapel, and this Icon is considered to be the protectress of the whole Holy Mountain. As was noted by one monk, although women are not allowed on the Holy Mountain, it is a woman, the Mother of God, who is its Protectress, and who is the most significant personality of the whole peninsula. This monastery is also the home of the now-retired Archimandrite Vasilios, the writer whose works are being published by our Dr John Hadjinicolaou at Alexander Press in Montrйal.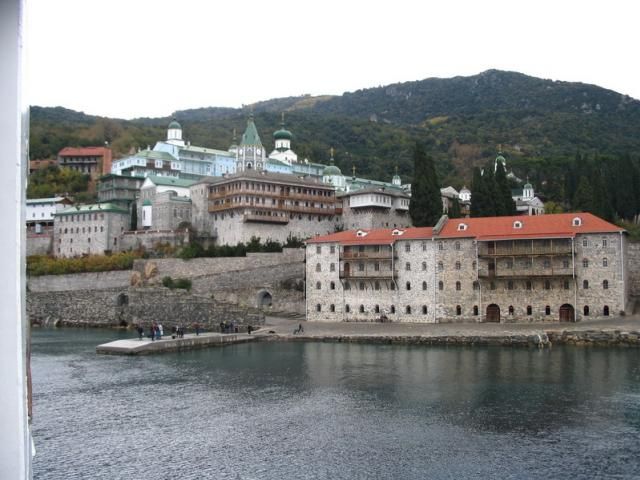 The next day, at 2:30 a.m., we joined the services of Midnight Hour, Matins, Hours, and Liturgy. It was the Feast of Sts Cosmas and Damian, and of Sts James, James, and Dionysius of Iveron. At the end of Matins, we venerated the relics of each of these saints. On ordinary days, and lesser feasts, Liturgies are in the chapels, not the main temple. Everything is served fully, in order, and peacefully. Nevertheless, we were told that as many as 200 persons per day visit this monastery, and ask to venerate the Icon of the Portatitissa. We were helped, later in the morning, to get to Karyes, where we had to take the large bus to Daphne, whence we were to take the boat to St Panteleimon.
Once we arrived, the monk in charge of guests gave us a short tour of the older main temple, built after 1812, after which he took us to the reception rooms for a cup of coffee, and showed us our rooms. Then we went to the upper, larger temple, built at the turn of the 20th Century to accommodate the 2,000 monks living at that time in this monastery. We venerated their many precious relics, which included those of the Forerunner, several Apostles, many other well-known saints, including all the Unmercenary Healers, St Panteleimon, some more recent saints canonised in Russia, and of course, the head of Saint Silouan. The present history of St Panteleimon is dated from the 19th Century, but it also has roots in other small communities on the same site, going back 900 years.
The clock of the monastery reminded us that the Holy Mountain operates on the old Christian time scheme, which followed that of the Scriptures: the day begins with sunset. There are twelve hours of the night, and twelve of the day, which are governed by the sunset. As a result, we were serving the Ninth Hour, and Vespers at what appeared to be 2:00 p.m., and Compline with Akathist at what appeared to be 5:00 p.m. At 8:00 p.m. Old Time (1:00 a.m. civil), we were beginning the Midnight Hour, followed by Matins, the three Hours, and Divine Liturgy. All of this was two hours later at Iveron, but the whole schedule is the same, and the general effect was one of an extra seven hours' time difference from Montrйal, and of that much more "jetlag." After the end of Liturgy, there was a short rest, and then Trapeza (Refectory). After this, we were informed that the winds were too strong, and our boat would not arrive. So we had time to visit the Deputy Abbot, to discuss how better to encourage visits from abroad. Next we visited the cemetery, and the Charnelhouse Church of All Saints, where more than 2,000 heads of departed monks, with other bones, are resting. It was explained to us that the colour of the bones is one indication of sanctity, and that the three-year exhumation custom on the Holy Mountain is primarily because of the very poor and limited soil on the peninsula.
Then there was time for rest, before beginning again the schedule of services. We had already had the blessing of participating in two complete monastic cycles of worship, one in Greek, the second in Slavonic. None of us was, of course, used to such long periods in Church, even if we have plenty of experience otherwise. In the end, the winds did not subside, and so we were blessed with a third cycle of services. Early on the final morning, with the pooling of money, it was arranged that a small boat collect us specially, since the sea was moderate, but in danger of increasing activity. Autumn is a windy period here, with fast changes in weather. That we were able to accomplish this, we take to be thanks to the protection of the Mother of God, and the prayers of St Nicholas. We arrived in Ouranopoli via Daphne quickly, and then we went by minibus to Thessalonika (a cheaper option for many people, with several stops required — however there is really nothing inexpensive about travelling in Greece on the Euro).
Near Thessalonika, we stopped in at the Patriarchate of Constantinople's Monastery of St Anastasia (4th Century Great Virgin Martyr), and venerated her relics there (they were in a Thessalonika temple in the 4th Century). We also were able to venerate the relics of St Theonas, the 16th Century Archbishop of Thessalonika, whose uncorrupt body rests there. It was moving to see two women approaching the relics of St Theonas, by ascending the stairs to the temple on their hands-and-knees, and then moving the whole way through the church to the Iconostasis, at the south side of which is the reliquary.
We got to Thessalonika in mid-afternoon, and were greeted by heavy traffic. Construction of a subway contributed to the congestion. After arriving at our hotel, and taking a brief rest, we were collected again, and taken to venerate the aromatic relics of St Demetrios, the Great Martyr, in the Basilica dedicated to his memory. There we venerated also the relics of the Martyr Anysia of Thessalonika (298). We also venerated the relics of the Archbishop of Thessalonika, St Gregory Palamas, in the temple named for him. Then we visited the historic temple of Hagia Sophia, named for the Martyr Sophia, and her three children. In this temple, also, are the relics of the Archbishop of Thessalonika, St Basil Homologites, of the 10th Century. There were official visits that should have been made, but they were impossible, because of our late arrival. Nevertheless, it was a very blessed day, blessed in ways we could not have expected — even though it was not according to plan.
I have always found that any plan made, regarding a pilgrimage in particular, has to be very flexible, because things are always changing. In this case, through our own Russian-speaking participants' simple conversations with people, the changes had also to do with the unexpected encounters with various Russian-speakers in every place, who seemed to be sent to help us at difficult points. They were on the spot at the needed moments, even if what they suggested often cost extra money. The Lord always knows how to care for us. The Mother of God is always taking care of us. The prayers of various saints are supporting us. In the end, we must rejoice in saying "God is with us. . . ."
Everywhere we visited, we were told that not very many pilgrims arrive from North America, and very few, indeed, from Canada. Instead, many come from former Soviet countries, and from Australia, Germany, Austria, and Britain. It is true that it is not an easy thing to make such a pilgrimage, and it is true that we have now many more monasteries close by in North America. It is true, also, that it is an expensive undertaking to travel in territory governed by the Euro. It is still worth trying to gather the resources, to make the connections as possible (even by computer), and to go. We have the resources in Canada to give suggestions as to how to go about this, and there is computer information on the Internet, as well. In our archdiocese, Dr John Hadjinicolaou can give a person suggestions, as can Frs Luke (Majoros) and Pierre (Vachon), and perhaps Fr Cyprian Hutcheon. If one is a clergyman, the travel requires getting specific permission from the Patriarch of Constantinople, and it requires a letter both from the diocesan bishop, and the bishop of the Greek Orthodox Diocese (in this case, Metropolitan Sotirios, the Patriarchal Exarch for Canada). Lay-persons can go for three nights, as a beginning, and perhaps then acquire an extension through the office in Karyes. As can be seen in these notes, there are also many other monasteries in the areas of Chalkidiki, and Macedonia, which can be visited in addition. Most important, it is better not to travel as we did, with a short time, and tight schedules ; but rather, with enough time on either side of the projected arrival and departure times, so that one can allow for weather, or possible extended stays. Again, the blessing is worth the expenditure. It is time for us in North America to start again visiting these places of refreshment and examples of the Christian way-of-life. Over fifty years ago, when travel was more difficult, Canadian believers did take the trouble to make such pilgrimages, and to maintain contact with these monasteries. I remember encountering persons who did this. These communities are ready and willing to have correspondence with us, and to pray for us. It is a spiritual struggle to make a pilgrimage, but the blessings that come are important, and the experience can help us to grow in Christ, to whom be glory unto the ages.