Father Aidan has said it more than once: "If you're bored at Divine Liturgy, you're going to be bored in Heaven." That's definitely something to consider, since we're talking about a time frame a lot longer than an hour and a half.
Not to make light of something nearly incomprehensible, I wonder how many of us, when conjecturing on whether we'll be placed with the goats or the sheep on the awesome Day of Judgment, are hoping for Heaven simply to avoid what we've come to fear of Hell.
Rather than striving for the heights on our spiritual journey, we are content enough to merely stay out of the depths. Faced with the formidable mountains of such things as fasting, a ritual prayer life, loving service to others, and true sacrificial giving, looking for a way around these disciplines is certainly less demanding than actually struggling to reach their peaks. But I can tell you this. If we are living our lives here on earth looking for these kinds of detours, we're going to be plenty bored in Heaven.
I started thinking about this seriously the other day. How much do I really want to spend eternity ceaselessly praising God? I know for sure that I don't want to be WITHOUT Him, just as I know I don't want to be WITH the Evil One. But if I am honest with myself, there are many times that my mind is anywhere BUT in church, in the Divine Liturgy with the Holy Trinity and the saints and angels. How will I ever manage the kind of spiritual focus that is necessary forever and ever and ever?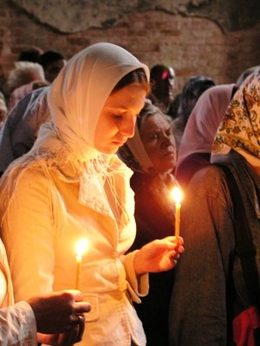 I'm not a theologian; just a wife and mother who is struggling daily with being in this world, but not completely of it. Struggling to look at the mountains and say "I can do it," rather than "that's too high." Struggling to be a decent example to my kids when it would be really easy to use a little olive oil and parmesan cheese on Friday's pasta. So the question is twofold: Do I really want this for eternity? And what makes me think I've got the spiritual stamina to do it when my mind wanders during the Cherubic Hymn?
Well, I've come to these conclusions, flawed and theologically simplistic as they may be. Though my attention may drift at times, not a Divine Liturgy goes by where I don't experience a rush (for lack of a better term) that sweeps through me and makes me shiver. This started happening consistently about 5 years ago, when I began praying that God would help me be a more meaningful participant in the Liturgy. Without wanting to sound like I am in some drug-induced state of mind, I felt in my heart, as surely as if I had heard it whispered in my ear, that this feeling was His presence assuring me that I was (as we all are) in this together during every service. And though I know that it may never happen again, it has been a blessing to experience this physical reminder at some point during each Divine Liturgy. And so the answer to my first question is "Yes." If this fleeting spiritual rush is any indication of how we will feel as we praise God forever, it is surely something to strive for.
So I guess that leads us to the next question. In my mind, the only people I can realistically see keeping focus 24/7 (or whatever numbers one would use to represent eternity) in God's Heavenly Kingdom would be those who are REALLY into praying right here on earth. Those who look forward to praying; who can look into an icon and see another world beyond. Those who don't hurry through their morning prayers to catch the headlines on the Today show; those who thank God for the day's blessings at night rather than read the latest best-seller in bed. Those who pray for all of us who don't really know how to pray.
But God has assured us that He doesn't just want the already-holy people with Him; He wants us all, even those of us who are thinking of chores during the Epistle reading. So my answer to what makes me think I have the spiritual stamina to keep my focus on God throughout all of eternity is my faith and trust that He rewards our efforts. That if we really DO attempt to climb those spiritual mountains that block the level path of doing WHAT we want, WHEN we want, then even if we don't reach their peaks in this earthly life, our reward for trying will truly be in the heights of Heaven.
December 2004