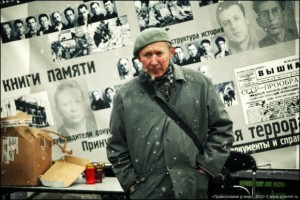 MOSCOW — Russians have commemorated the victims of Stalin-era political repressions in the Soviet Union, RFE/RL's
Russian Service reports.
They read out the names of those who were arrested, sent to the gulag, or killed by Josef Stalin's regime. Many people added names of their relatives to the list. The annual commemoration, called "The Returning of Names," was held near Solovki Stone on Lubyanka Squar.
Photos by Michael Moiseev