To mark the leave-taking of the Feast of the Entrance of the Most Holy Theotokos into the Temple, we offer the following festal homily by Bishop Benjamin (Milov) of Saratov and Balashov (1889-1955).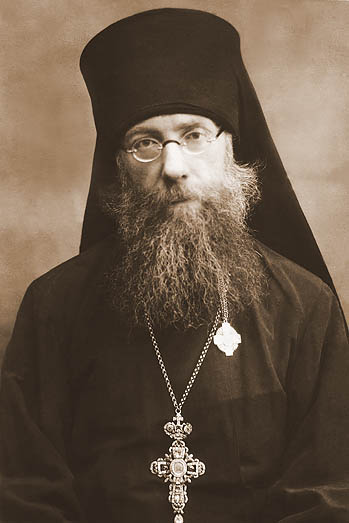 On this great day, brothers, the soul unwittingly desires to speak with you, that those who are wavering in faith may become confirmed therein and that those who are sorrowing may feel the presence of God near them, for we should all be confirmed and unwavering in faith, like cliffs that endure the furious and raging waves of the sea of life. The subject of our discourse today will be the Most Holy Theotokos, who is being led under the shadow of the sacred Temple. This wondrous Virgin, who became higher not only than all people, but even than the angles, attained such greatness that the fiery Seraphim and Cherubim minister to her with fear, while the devil trembles at the brilliance of her God-like soul.
How did she attain such perfection? For this, we need to recall the hymns of the Church, which reveal this secret to us. The Holy Church indicates that the Most Holy Virgin became the Ark of the Covenant in the Temple of Jerusalem. She spent her time in unceasing labor in the Temple, doing handiwork, and frequently praying and reading Holy Scripture. It was through dwelling in the Temple of God that she attained such extraordinary greatness and prepared herself to encompass the unencompassable God.
We know that the Church – with its services, prayer, and hymns – revives our souls, for just as food is needed for our bodies, so too is food essential for our souls, although of a different kind – eternal and spiritual. The words of the Prophet Amos have now been fulfilled upon us: I will send a famine in the land, not a famine of bread, nor a thirst for water, but of hearing the words of the Lord (Amos 8:11). Look everywhere around you: in houses, in the markets, on the streets – we hear vain talk about worldly acquisitions, but no one ever thinks of God, no one satisfies the starved human soul.
Only the Orthodox Church grants us the opportunity to receive this much-needed food, helping us to turn away from vanity and to come closer to God. This spiritual food is communion with God during prayer in Orthodox churches. Besides food, the body also needs drink and fresh clean air, and so does the soul. The reading and singing in church, the sight of icons and the burning lampadas, also work graciously on the soul, as even non-believers who occasionally visit Orthodox churches can testify.
St. John Chrysostom observes that even the worshippers themselves and the clergy who stand before God's Throne produce a certain atmosphere, and one cannot help but sense the Divine grace that is manifest in the Church's Mysteries. This is the living water that animates the decrepit human soul and springs up into Eternal Life, as Christ tells us [cf. John 4:14]. Prayer is the fresh air that is so necessary for our souls. No matter how great one's sins may be, no matter how overwhelmed by earthly passions, one can be reconciled to God in fervent prayer, for the Lord is merciful. This is the meaning of Orthodox churches for us, and we should always remember this.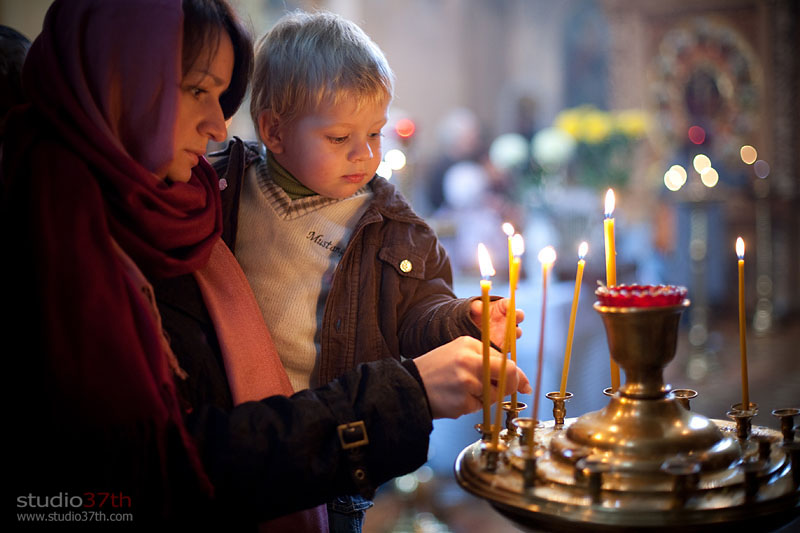 In our times there are people who want to serve God wholeheartedly and go to church daily, forgetting about their responsibilities; it is necessary to act in such a way that one's domestic affairs not fall into neglect, so as not to incur the reproach and murmuring of one's neighbors. Some people lack the time to go to church but, in spite of this, simply for curiosity's sake go to sectarian gatherings, where the devil himself controls human souls, or to false churches which have are icons, vestments, and clergy, but lack the grace of God. This empty curiosity can be harmful to people, for the wise man says: He that toucheth pitch shall be defiled therewith (Sirach 14:1). But we should not only avoid sectarians, but distain them, in the Apostle's words, by not giving them any greeting (cf. 2 John 1:10).
Mothers should take care that their children grow up in piety, accustoming them to God's church from an early age. Let us remember how we went to church when we were young, even if rarely, and how this put us in a good frame of mind; now we often recall these bright, wonderful moments of unearthly delight. This is the action of God's grace upon a child's responsive soul. For even the souls of children have vices, but they are only just beginning to bud, so the Orthodox Church can uproot them. Therefore, no matter how young a child is, their mother should bring it to God's church, that it might grow in strength in the Orthodox faith.
If we will strive to revive our souls, if we will go to church for conscientious prayer, and if we will shun sectarians and other heretics then, believe me, the Lord will revive our souls and accept us as worthy citizens into His Heavenly Kingdom. Amen.                  
Translated from the Russian