Every single time I find myself in the Holy Land I invariably try to visit the Wailing Wall.  Yet not many Orthodox tours include a visit to this place.  Moreover, many Orthodox tour guides find my request to stop by that place confusing, "What for?  That's not one of our shrines!"
At times, the participants of those guided tours say the same thing, "If we had been Jewish, it would have been obvious! But what do we want with it?"  And it is sometimes difficult to explain that many, many of the Jewish shrines are our shrines as well; that the God of Abraham, Isaak, and Jacob is our God; and that what was revealed to us by the Son of God by no means invalidates the old, but makes it deeper and more comprehensible, answering questions people could not answer before the coming of Christ.
Then, before the Incarnation, there was no place on earth more sacred than the Temple of God, the only true Temple in the world, where people worshipped the True God. The Western Wall is the only remaining part of that Temple.
To the Jews, it is their main shrine.  Obviously, it is not our main shrine, yet it is nonetheless a shrine.  It was here, in this Temple, that the Presentation of the Lord took place.  It is here that the twelve-year-old Jesus conversed with elders and scribes.  From this place He drove away the merchants and traders.
And if I had chanced to be in Jerusalem during the time of the celebration of the Entrance of the Most-Holy Theotokos into the Temple I would definitely have visited the ruins that witnessed the event we commemorate today.
It is not immediately evident why this event came to be celebrated so solemnly by the Church, for there is no mention of it in the Gospel.
Only Church Tradition treasures the memory of how the three-year-old girl Mary was brought by her parents to the Jerusalem Temple to live and be educated in its shelter; of how the High Priest Zacharias came out to meet Her and, inspired from On-High, took Her into the Holy of Holies.
It is such an improbable event that many consider it impossible.  Yet the Orthodox Church not only remembers it, but considers it one of the most important events in the history of the salvation of the human race from enslavement to sin and death.
A very, very long time ago, many centuries before this happened, the great ancestor of the Virgin Mary, the celebrated King David had written, "One thing I have desired of the Lord that will I seek: that I may dwell in the House of the Lord all the days of my life, to behold the beauty of the Lord, and to inquire in His Temple" (Psalm 27:4).
And yet these words were said by a man who had every possible blessing in life.  And all of it, riches, and glory, and victories in war, and the love of women, and being the ruler of a country, and everything else meant nothing to David compared to the happiness of "dwelling in the House of the Lord… and inquiring in His Temple."
Our whole life is a succession of encounters.  Encounters with people, nature, books, art, and other things nourish and mould our souls.  Every single encounter creates something, adorns us somehow, or conversely, destroys us and empties us.
However, there is an Encounter of Encounters and there is a place built especially for that Encounter.  And though it is not only in church that we can meet God, and though God is absolutely everywhere and the entire Universe is not big enough to be His house, nonetheless the temple is a place built especially for this encounter, it is a house built for prayer and prayer only.
It is not by chance that the Lord was filled with rage when he saw people buying and selling in the temple.  "My house shall be called a house of prayer… but you have made it a 'den of thieves'," (Mk. 11:17) denounced He merchants driving them away from the church.
For many centuries, as we have already mentioned before, the temple in Jerusalem was the principal place of a person's encounter with Him, whom men are called upon to love with "their whole hearts…"  For when two beings love one another, yearn for each other, it is not enough for them to meet, it is not enough for them to approach each other, it is not enough for them to simply interact, they need to be united fully, to become one.
"The pinnacle of love is when two become one," wrote he holy fathers.  This is what takes place in one of the most beautiful manifestations of human love – in marriage.  And it is what a person and God aspire to in their loving relationship.
Let no one be disconcerted by this allegory, let no one consider it audacious.  It is used in the Scriptures to define the nature of the love between Man and God.  If you reread the Song of Songs, you will become convinced of it.
And so, the best people of the Old Testament times saw that the whole purpose, meaning, and happiness in life was to encounter God and to be as close to Him as possible.
"As the deer pants for the water brooks, so pants my soul for You, O God.  My soul thirsts for God, for the living God. When shall I come and appear before God?" (Ps. 42:2-3).
And so subconsciously Man sought more – a complete union with the Divine.  I repeat that, obviously, this quest was subconscious.  It would have been too audacious to be aware of this quest.  Who am I and Who is God!
Man could not dream that such a union was possible, though the heart sought this union as a baby seeks its mother's breast. For God Himself desired this union.  However, though encounters were possible, the union never took place.
For what reason? God, I repeat, always loved Man immeasurably more than any person who ever loved God.  God always sought Man, longing to meet them more than men desired God.  God always desired a much closer and ardent union with Man than Man could ever imagine.  Why did that never happen?
Glory be to God, it did happen!  In the person of Jesus Christ, God and Man were united forever.  And this union took place in the womb of the Most Holy Virgin Mary.  And it had not taken place earlier because She had not yet been born on earth, who was so pure, so virtuous and so beautiful as to be worthy to contain the Uncontainable and give birth to Him, who being the Son of Man at the same time remained the Son of God.
When the three-year-old Mary was brought into the Temple no one understood yet that She Herself was destined to become much more of a Temple than the building she entered.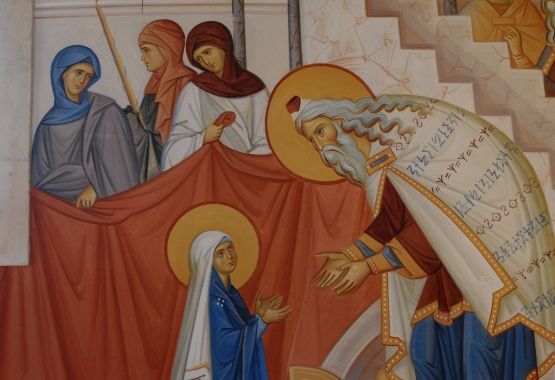 In Her, in the Virgin Mary, God and Man became One.  And now every person can in their turn become one with God.
In the language of church theology this is called theosis, or deification.  The Orthodox Church considers deification the purpose and meaning of human life.  The entrance of the Holy Theotokos into the Temple is a feast that reminds us of this vocation.  And our every entrance into the temple reaches its purpose only when we become temples of God.
Translated from the Russian by Maria Nekipelov