Moscow, May 28, Interfax – Russian Deputy Foreign Minister Alexander Grushko has met with Apostolic Nuncio in Russia Celestino Migliore at the latter's request.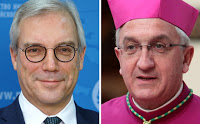 The diplomats discussed cooperation in the area of protecting Christians and said Russia's and the Vatican's approaches to the solution of pressing international issues are similar.
"The sides said Russia and the Vatican see eye to eye on the most acute international issues. There was an in-depth exchange of opinions on the deepening of interaction, including on the issue of protecting Christians," the Foreign Ministry said in a statement on Monday.
"The sides said they were ready for the further development of bilateral cooperation in the sphere of culture, education, science, and medicine," the ministry said.
"The head of the Vatican diplomatic mission shared his impressions from his visit to the Ulyanovsk and Kemerovo regions and to the Republic of Buryatia in April. Also addressed were issues related to the activities of Catholic structures in the Russian Federation," the ministry said.