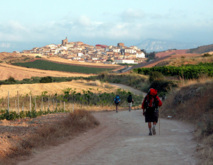 Orthodox communities in Portugal will make this Camino de Santiago walking pilgrimage for the eleventh time. It will involve pilgrims not only from Portugal but also other countries. At present, the pilgrims group include believers from Spain, Russia and Ukraine. 
This year, the walking pilgrimage will begin after the Divine Liturgy to be celebrated on July 15 at Portugal's Valenca do Minho, with the participation of pilgrims groups from Lisbon and Port, Tomsk and Moscow (Russia), Nikolaev (Ukraine) and Soto Grande (Spain). 
On their way to Santiago de Compostela, the Orthodox pilgrims will worship at the Divine Liturgy. At the destination point, the pilgrims will pray at a thanksgiving at the Cathedral of St. James, the website of the diocese of Chersonese has reported.
Source:  DECR Communication Service