Among the worst distortions we can apply to the saints is to assume that their human nature is qualitatively different from our own, and that their sanctity was simply handed to them on a platter. Sanctity requires grace and effort, including the hardest effort —. that of self-denial. This can take an entire lifetime to acquire. I recently heard a story that illustrated this struggle in a way I could relate to.
There was once a spiritual elder with a young disciple, who had a great problem with anger. Avarice, gluttony, lust and the other vices were largely held in check, but whenever someone (or even an inanimate object) tried his patience, he simply lost it and began to yell and berate. What could he do?
His elder gave him the following discipline: Whenever you lose your patience and become angry, take a hammer and nails down to that fence (he gestured to a rail fence some distance off) and pound a nail into it.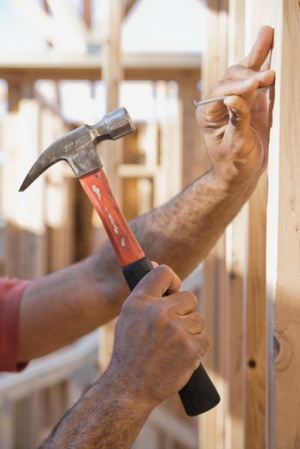 The disciple began observing his rule. The first day, he pounded 37 nails. This surprised him. He got angry that many times . . . in a single day? Day two was even worse, partly because he was irritated by this new discipline the elder wanted him to keep. He'd get so angry while pounding one nail that he had to follow up with another.
After several weeks of walking down to the fence day and night to pound nails, the disciple eventually grew weary. He realized it was easier just to avoid getting angry in the first place.
Eventually, a great day came. He went to his elder at sunset and related that the entire day had passed without having to pound a single nail. "Excellent, my son," said the elder, "Now for each day you do not get angry, go down and pull out one nail."
And so the disciple's rule changed. He didn't make it through every day without anger, but most days he was able to pull out a nail. There were many nails, so many years passed by. When the disciple was old and gray, and the elder older and grayer, the last nail was pulled from the fence. The disciple ran to tell his elder the news.
"You have come near to perfection, my son," said the elder, "but alas for the poor fence. It is full of holes." The disciple went away edified, having learnt that even repentance doesn't necessarily undo the effect of our sins. Any spiritual accomplishment must be tempered by humility over past falls.
Even St. Paul felt such humility, when he confessed that his former persecution of the church made him unworthy of the name "apostle." The saints aren't the exception to fallen humanity, but proof of its redemption. They struggled like we do. This is why we celebrate them, and call upon them as friends to pray for us.
Source: The Pueblo The Chieftain