Source: http://www.antiochian.org
From The Word, June 1983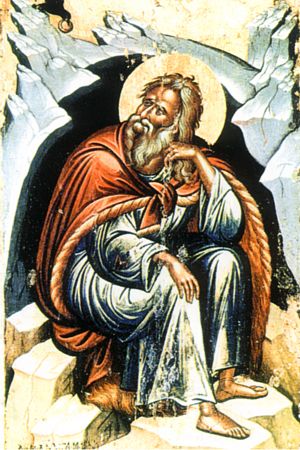 On July 20th, in the calendar of the Church, we celebrate the Feast of St. Elias the Tishbite, the Great Prophet. For us of the Orthodox Faith and particularly those of us who are from the Arab countries, St. Elias has particular renown. You will notice, especially with those coming from the old country in the last ten, fifteen or twenty years, the two most popular names amongst Orthodox Christians are George and Elias. All of the young men that are named Elie, for example, are named after this particular Prophet and Saint.
When we read in the first book of Kings of the life of this great Prophet we find that not too much is written. He is involved in perhaps seven or eight pages of the Old Testament but the events of those pages are profound. I think that at least one of the lessons to be learned from the Life of St. Elias is that need for us to be open at all times to God's message and His inspiration. Our Elias was a man of Tishbe, a small village in Gilead. There was nothing so exceptional about him except that he was open to God's will and when God called upon Him to express His intentions to the King and the people of Israel, because Elias was open to Him, He heard that message and was able to transmit it clearly and freely.
Now there are many prophets that come forth. Some are true and some are false prophets. We are called upon to recognize them for what they are by virtue of our faith and the spiritual intuition that is within us. Those who speak with the voice of God differ from those who speak with the voices of someone else.
Ahab, the King of Israel, did not recognize the prophetic voice of God in St. Elias simply because he himself was not open to the scriptures. Ahab, who was a Hebrew, a son of Israel who had been raised in the Mosaic traditions had turned away from the face of God as had his predecessors. Therefore when the voice of God came to him through Elijah the prophet, he was stone deaf to that voice. There was no way that he nor his pagan wife, Jezebel, could possibly be inspired or guided by that divine, prophetic voice.
Many of us think that we are living a godly life but because we are turned off to scriptures, because we are not open to the prophetic voices of the Church, because we have turned our thoughts away from the sacred traditions which have been preserved and handed down for us for five thousand years, we can no longer hear the sounds of inspiration and guidance. As a result, many of us follow after the voices of false prophets.
For this reason there is a rise of cultism in our society that has never been precedented. There is a need for people to know God. There is an innate need for them to know a power higher than themselves, to find the source of all reality, the source of all truth. But when they are not tuned in to the Truths of Scripture, when they are not a part of that main flow of Divine Revelation that has been a part of mankind's history for five thousand years or more, then, when the voice of God does come to them, the chances of their hearing it are very scarce.
Let us turn another way, the way of St. Elias. Let us be attuned to the Voice of the Lord as it comes to us through the mouths of His preachers and His prophets. "By their fruits ye shall know them." Some have been given the gift of prophecy and some the gift of preaching, but many more have been given the gift of hearing. Unfortunately, as I said before, we can hear the Voice of God only if we are open to the Word of God. We cannot be open to that Word of God unless we attune ourselves thereto with regularity, with faithfulness and with humility.
Then, unlike Ahab, when we hear the voice of a true prophet, we will recognize it as the Voice of God being spoken through the mouth of His creature who is open to Him, as we are.
* * *
Glorious Prophet Elijah the Tishbite, July 20
Troparion, Tone Four
Incarnate Angel and summit of the Prophets, second forerunner of the coming of Christ, glorious Elijah sent down grace from on high to the Prophet Elisha. He heals diseases and cleanses the leprous. He pours healings on all who honour him.
Kontakion, Tone Two
O great Prophet Elijah, seer of God's mighty works, who didst halt the torrential rain by thy word, pray for us to the Lover of Mankind.