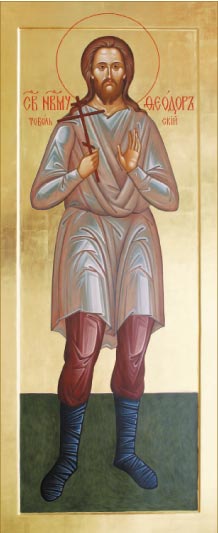 Theodore Ivanov, a layman, was shot in a prison in Tobolsk at the age of forty-two in 1937. Theodore was arrested based on a document submitted by the chairman of the Tobolsk city council that stated: "Ivanov is a religious fanatic… who is preparing for an armed uprising against the Soviet authorities…"
However, the accused was, in fact, bedridden and disabled. By the time of his arrest, he had been bedridden for almost thirty years. He was taken to prison on a stretcher.
As Igumen Damaskin (Orlovsky) relates in his Life, Theodore, a child from a poor family with many children, served in the city's cathedral from childhood. The cathedral was cold and the boy often caught a cold after spending the night there. At the age of thirteen he fell ill with rheumatism and, after a year, became paralyzed from the waist down.
The pain was so severe that, during the first several years, the boy at times screamed from pain. But in 1916 the young man venerated the relics of the newly-glorified St. John of Tobolsk during a festive divine service. From that time on, even though he could still not walk, the pain in his legs subsided.
Despite leading a bedridden life, Theodore did not suffer from isolation or loneliness. His circle of acquaintances only widened as years passed. Many believers visited Theodore, and not just out of pity or condescension for his infirmities. On the contrary, people found support and comfort for themselves by communicating with Theodore.
"Monks, priests, and hierarchs came to visit him. Sometimes when the anointing was taking place during the All-Night Vigil at the cathedral, the hierarch would anoint a certain number of people, but then be replaced by a priest in order to go to Theodore to anoint him and all those in his home," Igumen Damaskin (Orlovsky) writes. "Among the exiled priests who visited Theodore were Fr. Mitrophan Serebryansky, rector of the Sts. Martha and Mary Convent, and Fr. George Skripka."
Theodore carried out an extensive correspondence. Many people, sometimes strangers, would write to him in hope of receiving advice and comfort. He acquired fame as an unfailing man of prayer. People especially streamed to him during the 1930s, when almost all the clergy had been arrested. Although he was not a priest and was unable to confess people or to bless them, Theodore nonetheless provided all who suffered with invaluable spiritual support.
This lasted until 1937, when the Tobolsk branch of the NKVD initiated a new series of arrests for "anti-Soviet agitation." The authorities warned Theodore in August that if people did not stop coming to him, he would also be arrested. Soon a search was conducted and his books and correspondence were confiscated. In the evening of that same day, his sister Eugenia and her husband visited Theodore, who was joyful and calm.
"Has anyone visited you today?" Eugenia asked.
"Yes. They'll come again soon. Well, why pay attention to them?"
Members of the NKVD came in a few days.
"Is anyone home?" a serviceman asked.
"Everyone is at home," replied Eugenia Mikhailovna.
"Good. We are taking Theodore Ivanov with us."
Eugenia walked into Theodore's room, the serviceman following her.
"Theodore, look here. Guests have come to you."
"Well, I'm always glad to receive guests," the ascetic meekly replied.
"We're here to take you away," the serviceman said.
"Well, if you have such an order, I'll submit to the authorities."
Theodore had all these years lain in his bed wearing a long shirt. His mother, Elizabeth, went to get his suit, which had been prepared for his death, but they stopped her:
"No need, it will not be of use."
A stretcher was prepared. A member of the NKVD approached and said:
"Well, let's put him on it." He asked Theodore in a low voice: "But how are we supposed to lift you?"
"Put your hands like this," he demonstrated, "in a lock and put them under my head. Let the other one hold my legs."
His legs were as stiff as rods, but he had not lost all feeling. One of the servicemen grabbed him by his legs but, immediately feeling the ascetic's enormous strength, cried out of fear and dropped Theodore. His sister ran up, took the sick man's legs, and shouted at the servicemen:
"Monsters! What are you doing to the sick man? Why are you in such a hurry?"
"Don't worry," said Theodore in a comforting voice full of love. "Worrying is harmful."
When Theodore had finally been put on the stretcher, he prayed and said:
"Dear Momma and sister, don't wait for me and don't bustle. No one will tell you the truth anyway. Pray. Don't cry for me and don't look for me!"
Before parting, Theodore asked his sister Eugenia for her red beret:
"Give me your hat. Although I don't much like the color red, let it remind me of you, however short this memory may be."
He put on the hat and was taken to prison. In his cell, Theodore was laid down facing a wall so he could not see anyone and was forbidden to talk to anyone.
It is known that in prison Theodore was not asked about anything, was not interrogated, and was not visited in his cell by the interrogator. Likewise, none of the 136 people arrested at the same time as him was asked about Theodore. All charges were based on a single document submitted by the chairman of the Tobolsk district council. On September 11, the NKVD troika sentenced Theodore to death by shooting. Theodore was shot in prison in Tobolsk, on the territory of which he was buried.
The Life of St. Theodore leaves many unanswered questions. What danger to the Soviet government could a bedridden, physically handicapped person cause, even if he was "a religious fanatic"? Did the godless authorities have at least some human, earthly arguments for the destruction of such "enemies of the people"? Theodore's correspondence has not survived, for which reason it is not known whether he said anything that could have provoked his arrest.
Theodore's death, for all the poignancy of its description, was not unique for the Yezhov Terror. On November 30, 1937, the Holy New Martyr, Metropolitan Seraphim (Chichagov), was likewise arrested and taken by stretcher to prison. The fatally ill Metropolitan was taken to prison by ambulance. On December 7, the regional NKVD troika of Moscow sentenced the hierarch to death by shooting for "counter-revolutionary monarchist agitation."
Tens of thousands of feeble, defenseless, and helpless people became victims of the 1937-1938 terror, which was unprecedented in history. The horror of the phenomenon of the New Martyrs was that both St. Theodore and the Hieromartyr Seraphim were, in a sense, "one among many"…
In early 1938, a major campaign for the "withdrawal" of physically handicapped inmates from prisons and camps began. There is evidence that 1,160 physically handicapped inmates of prisons in Moscow and the Moscow region alone were shot dead in February-March, 1938. Physically handicapped prisoners were shot, first of all, because they could not be accepted in the camps due to their inability to work, as well as because there was not enough room for newly-arrested people. Could it really be that this was how Communist fascism freed Soviet society from "extra mouths"?
St. Theodore of Tobolsk was canonized by decree of the Holy Synod on October 7, 2002, following a proposal by the Tobolsk Diocese.
In 2007, a church was consecrated in honor of the Holy Martyr Theodore of Tobolsk in a worker's village on the 723 km point of the "Urengoy-Surgut-Chelyabinsk" gas pipeline in the Khanty-Mansiysk Diocese.
Translated from the Russian