Source: The Nativity of the Holy Virgin Orthodox Church, OCA
"Thank you, Father, for the beautiful sermon you delivered in church today."
This common compliment is often received with a certain amount of skepticism by priests. They appreciate the kind words from their parishioners, but they wonder what lasting impact their message will have on those who heard it during Divine Liturgy.
Sermons are often framed around the day's gospel lesson, and these stories reflect the wisdom and teachings of Our Lord. A sermon which effectively communicates this message should be perceived by the faithful as being more than "beautiful words." When a priest observes behavior which is contradictory to a gospel teaching, he often wonders why his sermon did not have more impact. Perhaps he would be reassured if more parishioners commented on his sermon by saying, "Father, your message this morning made me stop and think about my life. There might be some changes in store as a result of your sermon."
This same line of thinking can apply to the discussion of stewardship. What people say as they learn about Christian Stewardship is important, but it is completely overshadowed by what people do with this heightened awareness. Dedicated Orthodox Christians who attend workshops, read articles, or hear sermons about stewardship are frequently heard to comment positively about these experiences. Again, presenters, authors, and speakers appreciate these expressions of support, but stewardship demands action and behavior, as well as belief and acknowledgment.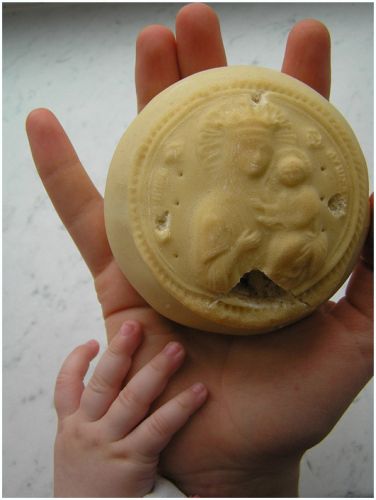 What does it take for belief and acknowledgment of stewardship's validity to be translated into action and behavior? Probably there are many factors involved, but the evolution of a vision within the mind of every Orthodox Christian is certainly a key element. Vision can be thought of as the wisdom to foresee something that is going to happen or the ability to use a special sense or sight to know what lies ahead. A true Christian has faith in God and believes in His holy word. When these characteristics begin to produce clear pictures of what lies ahead for ourselves, our family, and our church, vision is being defined. Since stewardship involves the use of our God given time, talents, and resources to take care of the earthly world He created, we must have a sense of purpose and commitment in our lives. The goals we set and the dreams we have become the focus of our lives. Stewardship is practiced as these are fulfilled, and visions are realized in the process.
An individual's faith and belief in God produces visions which relate to self and to family. Actions such as observing Great Lent, receiving Holy Communion, allowing Christian teachings to guide behavior in the work place, and observing family discussion nights are simple examples of visions being realized in the personal lives of Orthodox Christians.
Application of this vision principle broadens when applied to a person's role in a parish community. Using time, talents, and resources for the greater glory of the church becomes possible when the parish is seen as the vehicle through which our stewardship of God's creations is manifested. Involvement in church organizations, support of parish activities, volunteering services to fulfill church needs, and contributing to the church's financial well-being are a few of the ways visions or goals for the parish are fulfilled.
An awareness of stewardship includes the reminder that the whole world is God's creation. Each Christian believer is responsible for being a steward of all which God created through the use of time, talents, and resources; which are also gifts from God. For this reason, vision cannot be limited to self, family, or local parish. It must include the community where a parish is located, the archdiocese to which the parish belongs, and, in a real sense, the whole world. Visions must include specific involvements with every one of these levels of association with the family of man.
Christianity does not preach the limited scope of parochialism. The work of the Antiochian Archdiocese, for example, should be seen in the same light as the projects of the local parish. It is a natural extension of our lives as Orthodox Christians to respond, for example, to a plea from the Archdiocese for aid to people in some far off land suffering the hardships of war or natural disaster. The financial support for Archdiocese endeavors is minute in comparison to what it should be, yet the fact that this small amount of it often given reluctantly indicates a lack of vision. Too many Orthodox Christians are parochial in their thinking. Their vision extends only as far as the local church. God is the Father of the whole world, not just of St. John, St. Nicholas, or St. George's parish.
A goal of stewardship education is to develop this sense of vision within the minds of Orthodox Christians. Vision is a concept which suggests happenings in the future, so in a sense stewardship involves a future vision. This reality about the word vision must not lead to an attitude of procrastination. Learning about stewardship and allowing it to reflect changes in the life of every believer must begin immediately. Everything cannot happen at once, but there must be definite, steady, and identifiable growth. Thinking of stewardship as a future vision must be accompanied by the realization that the future is now. Consider the immediacy of the need to make stewardship a part of everyday life. Ideas contained in the paragraphs which follow might offer some ways to begin or to continue this process. Remember, stewardship must be reflected in action and behavior as well as by belief and acknowledgment.
Churches which have ongoing stewardship programs are providing their members great assistance in developing a sense of vision. These programs can take a variety of forms, but there are essential elements which all should contain. When these parts are present, the chances of clear vision evolving are greatly enhanced. In his book, A New Climate for Stewardship , Wallace E. Fisher offers an excellent description of where the focus should be in a parish stewardship program. Whoever takes up Christ's cross, denies himself daily, and follows his Lord into the world is a Christian steward. Christian lifestyles differ from culture to culture, from denomination to denomination, from congregation to congregation in the same community, and from person to person in the same congregation; but obedience to Christ is the common factor in biblical stewardship.
The church's responsibility, therefore, is to uncover the biblical description of stewardship, get it before its members, enable them to dig into it, and encourage them to act on it in church and society. The search for biblical descriptions of stewardship produces many readings and passages. They become the basis for discussion sessions and Bible study groups. The understanding these produce can form the basis of a parish stewardship program. While such programs can take various forms, they most probably will revolve around the three purposes for a stewardship program explained by W. David Crockett in a sermon called, "Grace, Freedom and Stewardship." (reprinted in Jesus, Dollars and Sense, Oscar C. Carr, Jr. ,Editor)
To teach that everything comes from God. God is truly a sovereign and everything, our time, our abilities, and all of our possessions, are derived from His gracious gifts.
To teach Christians how to properly use God's gracious gifts. "We are but stewards of these for a time . . . we will have to give an accounting. This means one hundred percent of our treasure! Our accountability is not for one, two, five, or ten percent of God's gifts, but for the full measure."
To insure the development of each and every Orthodox Christian. Toward this third purpose, a stewardship program teaches and encourages the giving of the time, talents, and resources given to us by God to use as stewards of the world He created.
Canon Crockett, a leading expert on stewardship in the Episcopal Church, tied his thoughts together about the purposes of a stewardship program by referring to the Latin word, "gratia." Gratia was the Latin word for, "free." Free will is a central theme in Christianity. In English, gratia became the word, "grace." Through the grace of God, all Christians have free will. In Spanish and Italian, gratia is the basis for the word, "thanks." Giving thanks to God for His grace is the essence of stewardship. In Canon Crockett's words:
God has made us free. He has freely given us His creation, and this personal favor of God, which we call grace, also calls upon us to respond in thanks-giving. Jesus Christ commanded us to go teach all nations and to baptize them `in the Name of the Father, and of the Son, and of the Holy Spirit.' This is our missionary imperative! Had we even begun to meet this challenge, our world might be a different place today. With the thankful giving of our time, our abilities and our treasure we must redeem the mistakes and failures of the past and move forward. We must do God's work. Practice Christian stewardship and you will enter into a new appreciation of the sovereignty of Almighty God. Practice Christian stewardship and you will learn to use all of his gifts in thankfulness. Practice Christian stewardship and assure your own development in the sight of both God and man. Practice Christian stewardship and hasten his kingdom of love. It is a way of life. It falls within the realm of grace.
Individuals or parishes can find value in shaping stewardship programs around gospel teachings. The value of this approach was described by Turner N. Clinard in his book, Responding to God: The Life of Stewardship. It is initially important to understand the meaning of the gospel as a vehicle through which God's message is communicated.
. . . the gospel includes the good news of God's love for us; the news that Christ came, lived, and died for us; the news that Christ saves us and that He lives in us, enabling us to live joyous and victorious lives. It also includes that good news that God plans to unite all things in Christ and to make `the kingdoms of this world' into `the kingdom of our Lord.'
Following this examination of the meaning of the gospel its importance and significant impact in the world must be noted. Where the gospel went, slaves began to be treated as human beings, there developed a new concern for women, and children came to be valued. In time the gospel began to make people reform laws and become concerned about equal rights and privileges for all persons as children of God. The Christian gospel of human worth in God's eyes has caused reformation in many areas of life, built hospitals and schools, and sent missionaries, doctors, and teachers to the ends of the earth. The gospel contains God's message to us and its importance has been demonstrated throughout history. All Christians must become stewards of the Gospel in order to fulfill God's earthly mission for man. How to carry out this responsibility becomes the real challenge of a stewardship program. Here again it is useful to refer back to the fact that time, talents, and resources are the unique gifts from God which become our stewardship tools.
Every Christian must recognize these gifts, cultivate them, and use them for the glory of God. Clinard summarizes the relationship between the gospel and stewardship with a response to the question: How will you share the gospel? You and I are not responsible for being theologians like Paul or preachers like Stephen. But I am put in trust with the gospel according to me, and you are entrusted with the gospel according to you. In the way God opens up for you: through living the life of faith in your home before those who know you best; at your work, through the simple witness of a good life and right words in season. I cannot tell you specifically. I try to witness to the gospel as a teacher and Christian writer. You and I can witness, each in our own place.
Much has been written about stewardship throughout the Christian world. The importance of this subject justifies such extensive examination. While profound ideas and great theological points can be made about stewardship, it need not and should not be thought of as a complex concept. Like Christianity itself, it is a doctrine based upon love. God, in His infinite wisdom, sent His son, Jesus Christ, to earth in order that man might better see the truth of His being. While on earth, Jesus walked among the people and spoke in terms which reflected the simplicity and depth of His love. The parables of Christ contain the essence of His message to man here on earth.
The truth and simplicity of Christian stewardship is told in the story of a little girl who went to church. Raymond B. Knudsen tells this story in his book, Developing Dynamic Stewardship. A little girl had been to church and returned to her home only to be confronted by a dinner guest who asked the question, "What did the preacher speak about today?' Her response, `He preached a sermon on the beautiful attitudes.' Unable to pronounce the word associated with the great gems from the Sermon on the Mount, she had improvised `beautiful attitudes' for `Beatitudes.' It will be her good fortune if each substitute in language and title will be as forthright, descriptive, and appropriate to the situation, for beautiful attitudes are the result of the application of the beatitudes to everyday life; they are intrinsic components in the stewardship of life.
When looking for the elements of a parish stewardship program, lay leaders and clergy need look no further than the Beatitudes. Next to The Lord's Prayer, they are among the first things a child learns through a Christian Education program. It is good to recall their broad scope and simple essence. Indeed, an analysis of their meaning and their application to the everyday life of Christian people solves the mystery of stewardship.
Reprinted from The Word, June, 1983. pp. 31-33