May 10, 2013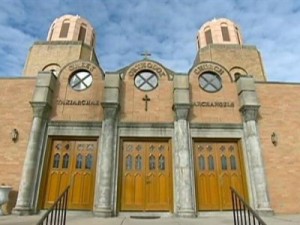 On Friday morning a garbage bag full of previously stolen religious items was found behind the Taxiarchae/Archangels Greek Orthodox Church in Watertown.
According to Fr. Demetrios Tonias of Archangels Greek Orthodox Church, a maintenance man found the items behind the church's social hall when he arrived to clean in the morning.
"He thought the bag might have been left from someone renting the hall," Tonias said. "But, he left and came back, and it was still there so he looked through and saw what was inside and notified us immediately."
The church was robbed in late March as thieves broke in through a back door, stealing a safe, chalices and Holy Bibles from the church on Bigelow Avenue.
According to Tonias, the safe was recovered around Apr. 19 near the Charles River and Greenough Boulevard.
"The safe is with the Watertown Police and is still under going testing," Tonias said.  "We notified police this morning when the bag was found and they're investigating those items now."
Tonias said he felt relief having the stolen items returned.
"It's nice to know they're not in a dumpster, landfill or have been melted down," he said. "It'll be good to put them to use again. We've been making use with the backup stuff, so it'll be nice to have the starting team in again."
After notifying the police, Tonias also called Greek Orthodox Metropolitan Bishop Methodios Tournas of Boston to share the good news.
"We're just thankful," Tonias said. "It's a bright Friday for us."
Watertown Town Councilor and parishioner Angie Kounelis said she was 'deliriously excited' to learn the items had been returned.
"It's miraculous to have this happen after the Orthodox Easter," she said. "We're very happy the items have been found safe."
Source: Wicked Local