Source: http://home.comcast.net/~romanos51/p-son.pdf
Early yesterday morning, as we were having breakfast, there was a knock at the door. I immediately thought of the neighbor kids who typically come and ask if our kids can come out and play. But it wasn't them; instead, it was Adib, a man that had done some work on our deck last summer. He had come by to tell me that his father, a Roman Orthodox priest who lived in Syria, had passed away on Christmas. If it seems strange to you that he would come by to tell me about his father after completing his work for us months earlier, then you need to know a little more about Adib.
I met him last spring as I was exiting from a hospital after visiting one of our parishioners. Adib was heading towards the hospital as his wife was delivering their fourth child. Coincidently that morning, Presbytera and I had decided that refinishing our deck was a top priority, and that I was to look for a contractor. I didn't notice that the back of his truck, and the hat he was wearing, both had written on them, "AK Construction, Decks, Fences, and more". Rather, I noticed this middle-eastern looking man staring at me and changing his course to come right towards me. "Excuse me father," he said, "can I talk to you?" Thus began an hour long conversation in the parking lot and our relationship. Since then, and Presbytera can attest to this, Adib and I have spent many hours discussing life's issues. So, him showing up at the door and asking if Father Jerry could come out and talk, became as common as the neighbor kids coming and asking if the kids could come out and play.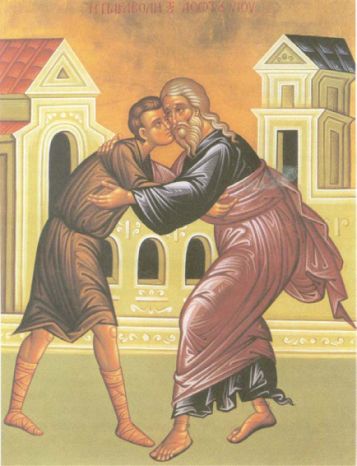 It was too cold to talk on the deck yesterday so we sat and talked in the living room. He had spoken to me many times about his father, a priest, and their relationship. He always spoke of his father with a great deal of respect and he repeatedly would say how much he missed his father. He would talk about his last trip to Syria and how much he was looking forward to going back "home", the next time. It was easy to see that he really loved his father and that his father's love had a huge impact on his life. One of his fondest memories was watching his father praying as he walked on the roof between their home and the church for what seemed like hours. His father would do this regularly but especially during those years when Adib was between the ages of 18 and 25. Adib, like most of us, went through that phase whereby our parents told us to do one thing, and we did the opposite. In Adib's words, "When we argued, my father went east, so I went west—a lot." Adib still questions why that "distancing" occurred between he and his father and wonders what happened to him at 25 that brought him back to his father. It was at that moment in his visit that he had to leave, and we agreed to take up the subject at another time.
After he left, I reflected on how pertinent our conversation was to this morning's gospel reading. After all, the parable of the Prodigal Son is about relationships lost and found, distance and reconciliation, and a father's love. It is like a fountain overflowing with water that continually gives drink to those who thirst. I was thirsty for some answers so I opened up my Bible and carefully studied the text. Here is what I found interesting about the father:
1. His response to his youngest son's request
a. Gives no counsel or advice
b. No criticism or sarcasm at anytime
c. No conditions, threats, ifs, ands, or buts'
d. He freely gives to his youngest son, even allowing him the freedom to leave.
2. His response to his son when he returns is the same as when he left.
3. He responds to his oldest son the same way. No matter what, that father remained true to his fatherhood.
Here is what I found interesting about the oldest son:
1. Has no relationship with the father or the youngest son.
2. Never calls his father, father; never calls his brother, brother.
3. Remains on the outside, looking in.
No matter what, he is unable to love and cuts himself off from the wealth of the father.
Here is what I found interesting about the prodigal son:
1. He asks for his inheritance.
2. He recognizes after losing everything, that he was still has his relationship with his father.
3. He decided that no matter what, he needed to return home to his father.
I decided to write some notes down so when Adib returned, I would share with him that…
1. God can't make us love Him, or listen to Him, or obey Him, or else He loses His fatherhood.
2. God responds out of freedom even to the point of letting us leave home.
3. God loves us unconditionally.
4. We are sons and daughters no matter what.
5. God is the same, yesterday, today, and tomorrow.
6. We can't fall outside of God's love.
7. God extends to us a relationship with Him that we are free to choose or reject and He keeps on extending Himself to us.
8. We have to ask for that relationship.
9. Once we have it, that relationship remains, no matter what.
10. It is that relationship that will save us.
11. We have to come to our senses, recognize our divine inheritance, and return back home to the Father.
I figured out that it was the father's love that brought the prodigal son to his senses. I also figured out that it was his father's love that brought Adib to his senses.
We live in a world where the activities of people are disconnected and not ordered according to God's will. We live in a world of incoherent pursuits, of illusory strivings, of craving for foods and drinks that do not satisfy. A world where nothing ultimately makes sense and a world engulfed in untruth, deceit, and sin. In short a wasteland, and the exact opposite of the kind of world God created for us. As a result of sin in our lives, we lose our communion with God. We defile and lose our spiritual beauty, and we find ourselves far away from our real home and our real life.
In true repentance we realize this and we express a deep desire to return, to recover what has been lost. On this day the Church reminds us of what we have abandoned and lost, and beckons us to find the desire and power to return. For our Heavenly Father is waiting and ready to receive us with His loving and saving embrace.
Amen.