March 28, 2013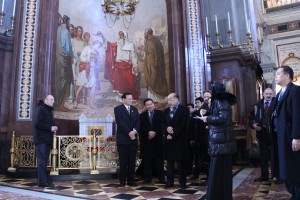 On 28 March 2013, H.E. Mr. Surapong Tovichakchaikul, Deputy Prime Minister and Minister of Foreign Affairs of the Kingdom of Thailand, who is taking part in the meeting of the Russian-Thai Intergovernmental Commission on commerce and economic bilateral cooperation, visited the Cathedral of Christ the Saviour in Moscow. He was accompanied by H.E. Dr. Itti Ditbanjong, Ambassador Extraordinary and Plenipotentiary of the Kingdom of Thailand to the Russian Federation; H.E, Mr. Vijavat Isarabhakdi, Deputy Permanent Secretary, Ministry of Foreign Afairs; Mr. Adisakdi Tanayakul, Deputy Secretary General, National Security Council; Mrs. Nantawan Sakuntanga, Deputy Permanent Secretary, Ministry of Commerce; Mr. Somchai Tiamboonpraset, Deputy Permanent Secretary, Ministry of Science and Technology; members of the Commission from Thailand, staff members of the Ministry of Foreign Affairs of Thailand and of the Embassy of Thailand in Moscow.
The guests visited the Churches of the Transfiguration and of the Nativity; Mr. Surapong signed the book of honorary guests.
Mr. Dmitry Petrovsky, a staff member of the Department for External Church Relations and employees of the Cathedral of Christ the Saviour told the guests about its history, its architecture and relics.
Mr. Surapong lit candles in memory of the Romanov Imperial Family. The position of the Russian Empire was conducive to the state independence of Siam in the period of colonial conquests in South-East Asia. At present, Russia and Thailand successfully develop friendly relations and cooperation.
Orthodoxy is recognized in the Kingdom of Thailand: there are five working churches in the country and a monastery; two more churches are under construction. This year, a special festive programme is planned to mark the 400th anniversary of the Romanov House. A new Orthodox church of St. Nicholas will be consecrated, as well as a chapel with the baptistery in honour of the Imperial Passion-Bearers. A monument to the Russian Emperor Nicholas II and the King of Siam, Rama V, will be erected.
Source: DECR