On New Year's Eve, Israeli President Shimon Peres received the heads of Christian communities of the Holy Land at his residence. At this traditional event, the President of Israel congratulates his guests on the Nativity of Christ and the civil New Year. The leitmotif of this year's event were the statements made by the President and the Minister of Internal Affairs of Israel at which they harshly condemned all acts of terrorism, bloodletting and intolerance in which peaceful civilians are victims.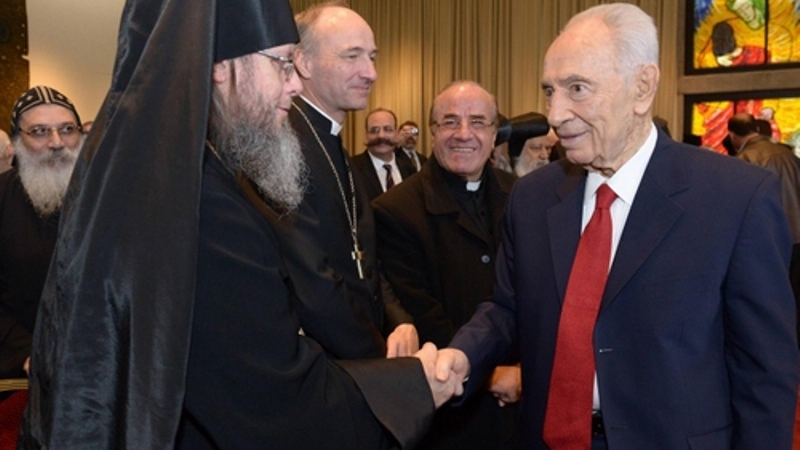 In attendance were Archimandrite Roman (Krassovsky), Chief of the Russian Ecclesiastical Mission in Jerusalem, Abbess Elizabeth of Gethsemane Convent of St Mary Magdalene, and Archimandrite Sergy (Obyedkov) of the Russian Ecclesiastical Mission of the Moscow Patriarchate.
Shimon Peres condemned the terrorist acts committed in Volgograd on December 29-30; in a letter to Russian President Vladimir Putin, he expressed condolences to the families of the victims and to the people of Russia: "With my heart, I stand with those who suffered from these monstrous acts and previous attacks with have brought pain to Russia. I strongly condemn the attack upon innocent people by terrorists motivated by hatred and the thirst for destruction."
The President also considers impermissible the recent acts of hooliganism against Christian clergymen in the Holy Land. "Human society," said Shimon Peres, "must mean equality and diversity: the equality of all people by birth, wherein equal rights must be the established norm, while diversity in faith, culture and traditions is a privilege. Persecution for such diversity is unacceptable."
The head of government noted that today, throughout the world, the interest in religion among youth is noticeably growing. Young people open themselves up to prayer, which they are in need of. "There is no contradiction between science and faith," said Shimon Peres. "Science is what we already know, while faith is what we have yet to find out." The older generations are called upon not only to teach the young, but share their religious experiences. The Christian Church today brings people hope, and the Holy Land also bears witness to the deliverance of hope.
His Beatitude Patriarch Theophilos III of Jerusalem thanked the President for the opportunity to meet with the heads and representatives of the Christian churches and communities of the Holy Land. "Such meetings," noted Patriarch Theophilos, "remind [local] Christians of our main goal: the holy places are not tourist sites or archeological artifacts. They are first and foremost places of the worship of God and of prayer, places where the Divine meets the human; they must remain so."
The Patriarch of Jerusalem stressed that relations between people must be based on mutual understanding and respect. Any form of aggression and violence is unworthy of the dignity of human society.
Patriarch Theophilos praised the efforts of the Israeli authorities in guaranteeing security and access to the Christian sites for pilgrims from abroad as well as the local population. Still , he noted, there is room for improvement .
Source: ROCOR