Since the time of the transgression of our forefather, despite the weakening of our spiritual and moral powers,we are wont to think very highly of ourselvesThe Unseen Warfare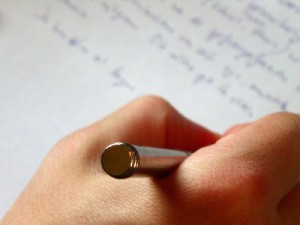 In the seventeenth year they stopped having sex and moved to separate bed-rooms. The daily stare-down was withering their marriage. And finally on their twentieth anniversary, after midnight, he went down the hallway where she lay sleeping and rifled her handbag for money and the car keys, determined to break his sobriety, his celibacy, and his loneliness.
He hadn't signed on to be a monk. He was tired of being doubted, denigrated, and dogged. Take a look around, you should have some husbands; you should've had my father. I'm a good provider. I put up with a lot. You just never listen.
Okay, sometimes when he was alone he had to admit that his marriage was rotting on the vine and he was being eaten by his own appetites. The kids seemed alienated and he couldn't understand why, but he knew one thing, he knew it wasn't his fault and he knew he deserved better and he was going out to find it.
Although our daily experience very effectively proves to us the falseness of this opinion of ourselves, in our incomprehensible self-deception we do not cease to believe that we are something, and something not unimportant.The Unseen Warfare
In her handbag he found a legal envelope and a letter torn to shreds, blue Bic ink in her handwriting crumpled down inside her bag. He took it to his room and smoothed it out on the floor like a jigsaw puzzle, determined to put it together, bitter bit by bit. Three loose-leaf pages, covered on both sides, six pages, twenty years of accusations against him.
The art of making art… went the line from the Stephen Sondheim song… Is putting it together bit by bit… And as he tagged the jagged pieces of their sad mosaic into place, what emerged was less like creative uplifting art and more like Emily Dickinson's Elemental Rust… …First a cobweb on the soul… …A cuticle of dust… Every line reduced him further to the floor. Crumbling… Dickinson said … is not an instant's Act…
…The corpse at every funeral,
…The bride at every wedding,
…Never wrong, has all the answers,
…His own kids despise him and can't wait to get away,
…I'm so smothered, I can't breathe,
…Dominates everybody's time and business like a needy baby,
…An expert on everything, a fanatic know-it-all,
…There's nowhere to hide from his brilliance,
…And he's a snoop, he'll even find this note, I just know it,
… I feel like a fly born trapped between the window and the screen,
At every line he denied, denied, denied… Railed against her, blamed the universe, and cursed the black sky outside his bedroom window for being black. "Let them all go to hell." He wept frustrated tears of resentment… And what does she mean…?
…I may not be much but I'm all that I think about… Yet this spiritual disease of ours, so hard to perceive and acknowledge, is more abhorrent to God than all else in us, as being the first offspring of our self-hood and self-love, and the source, root and cause of all passions and of all our downfalls and wrong-doing… The Unseen Warfare
Having gone to liturgy a few times a year to humor her… And already on his knees, he said something made him pray. In Confession, many years later, he said that as it got light, God spoke to him, told him to copy the letter and return it to her handbag, and work on the list as if it were true, whether he agreed or understood or not. It wasn't easy.
May God preserve us from this disease and passion of Lucifer! – God severely reprimands those who are stricken with this passion of vainglory and self-esteem…The Unseen Warfare
Five years later in bed together she asked him what had happened to him. He told her, "Someone who loved me let me get a look at myself."
Listen to the words of the wise fathers: Peter of Damascus assures us that: "…nothing is better than to realize one's weakness and ignorance and nothing is worse than not to be aware of them." (Philokalia). St. Maximus the confessor teaches: "The foundation of every virtue is the realization of human weakness" (Philokalia) The Unseen Warfare
So, whether the person, or the family, the parish or the diocese, the Bishop or the priest, the Church in our city or in America… Who do we have who will love us enough to tell us, to be honest and judicious in offering opportunities for self-reflection and correction, to prudently break it to us gently… And are we strong enough to listen, to trust, and to accept, to stay on our knees and pray… And to value what these sisters and brothers may have to say?
She had tried to tell him many times.
She never knew he found the letter.
And I shall add another thing: if a man wants to realize his weakness from the actual experience of his life, let him, I do not say for many days but even for one day, observe his thoughts, words, and actions – what he thought, what he said, what he did. He will undoubtedly find that the greater part of his thoughts, words, and actions were sinful, wrong, foolish, and bad. This experiment will make him understand in practice how inharmonious and weak he is in himself… And if he sincerely wishes himself well, this understanding will make him feel how foolish it is to expect anything good from himself or to rely on himself alone. The Unseen Warfare
Source: Jacob's Well, Spring 2011