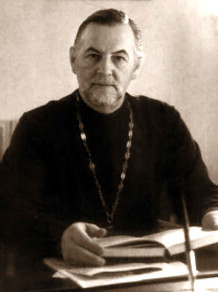 On New Year's Eve we feel the mystery of time more powerfully than at any other time. We feel, in other words, that its flow – in which we live and in which everything constantly vanishes as the "past" and constantly places us face to face with the unknown future – essentially contains within itself the main question that everyone is called to answer with their lives.
"Vain gift, chance gift – life, why have you been given me?" asks the poet [Pushkin] in his immortal line. Indeed, it is enough for one moment to turn away from the cares that absorb us, enough mentally to stop the ceaseless waterfall of time, disappearing into the abyss, in order for the question "Why is life given and what is its meaning?" to rise from the depths of the subconscious, where we normally hide it from ourselves, and stand before us in all its implacability.
I was not, now I am, and I will not be; thousands of years passed before me, and thousands will come after… On the surface of this unimaginably infinite ocean I am but a fleeting bubble, into which a ray of life flashes for a split second, just to be extinguished and disappear then and there.
"Vain gift, chance gift – life, why have you been given me?" What, in comparison with this only honest, rueful question do all the loud theories mean that seek to answer this with tiresome theoretics of a "bright future"? "We will build our new world. He who was nothing will become everything" [from The Internationale]… The most naïve, gullible, and dull-witted person cannot but know that all this is a lie. For both the very one "who was nothing" and the one who "will become everything" will disappear from the face of the earth, from this hopeless mortal world.
Therefore, regardless of whatever we were taught by pathetic prophets of a pathetic happiness, only one real question stands eternally before man: does this ever-so-brief life have any meaning? What does it mean, when compared with the boundless abyss of time, that this flash of consciousness, this ability to think, rejoice, and suffer, this extraordinary life that, however seemingly futile and random, is still looked upon by us as a gift?
Now the clock strikes twelve on New Year's. And as long as it strikes life for twelve short seconds stops and pauses, and everything as it were focuses on what is now to begin, posing and responding to the same torturous question: what is this – another step towards a meaningless end and disappearance, or the unexpected flashing of a ray of renewal and new beginnings? In response come words from an infinite loftiness and an infinite profundity: That was the true Light, which lighteth every man that cometh into the world. He was in the world, and the world was made by Him, and the world knew Him not. He came unto His own, and His own received Him not. But as many as received Him, to them gave He power to become the sons of God, even to them that believe on His name… And the Word was made flesh, and dwelt among us, (and we beheld His glory, the glory as of the only begotten of the Father,) full of grace and truth… And of His fulness have we received, and grace for grace (John 1:9-12, 14, 16).
These are the words of the Evangelist John the Theologian in the very beginning of his Gospel. They are thoroughly imbued with the joy, confidence, and love of a man who has seen the light of true life, about which it is said that it shines in darkness and was not overcome by the darkness (John 1:5). Listening attentively to them, the very same joy, the very same confidence, and the very same love begin to be kindled in our own souls. Time is powerless if this light shines above us. Life is not vain, life is not chance, but is a gift from on high, from God, about Whom the same John the Theologian said that in Him was life, and this life was the light of man (John 1:4). And every man that comes into this world is once again set alight, is once again gifted this life, and the love of God is addressed to each one of them, and to each one of them is addressed God's commandment: "Live!" Live, in order to love! Live, so that your life will be filled with love, light, wisdom, and knowledge! Live, so that in your life darkness, meaninglessness, and eventually death itself will be overcome! For eternity already shines through this world and through this earthly life. This gift of life in the world and with the world is given us that eternal life with God and in God may become part of us.
Yes, suffering, doubt, trials, the bitterness of separation – all these have fully become part of our lot. How often we are weakened in this battle, and give up, and fall, and change! How often we are scared and lonely, how often we lose heart when we see how evil and hatred are triumphing in the world! But the One Who gave us this life and granted us freedom taught us to discern good and evil; He gave us the loftiest of all gifts: love. For He said, and continues to say: In the world ye shall have tribulation: but be of good cheer; I have overcome the world (John 16:33). We, too, can overcome in this very world, and in it our lives can shine with that same light that once flashed forth and continues to shine – that light that the darkness has not overcome.
The clock strikes… Let this mysterious future come to us; for, whatever it might bring with it, we know and believe that God is with us, that Christ has not orphaned us, that He is faithful that promised (Hebrews 10:23). Here are the marvelous words of Vladimir Soloviev:
Death and time reign on earth,
Do not call them your masters;
Everything, whirling about, disappears in the haze
The only thing fixed is the sun of love.
Yes, this is our calling, our freedom as children of God: not to call "masters" those things whose dominions have been destroyed, and not to close ourselves from access to the Sun of love, faith, and hope.
The holiday will soon be over, and routine, labor, fatigue, and depression will begin. But let us not permit the daily routine to overpower ours souls! Just as sunlight penetrates through closed shutters, so too let the light of Christ, through this mysterious holiday, become present in our daily lives, rendering our entire lives an ascent, a communion with God – a difficult but joyful path to eternal life. For the Apostle John said: For God so loved the world, that He gave His only begotten Son, that whosoever believeth in Him should not perish, but have everlasting life (John 3:16).
Happy New Year!
Translated from Russian