Archbishop Seraphim here talks about the Orthodox saints of France, so little known to Russians; about which saints flourished in Lyon, Marseille, and Paris; and how to identify whether a saint is Orthodox or Catholic.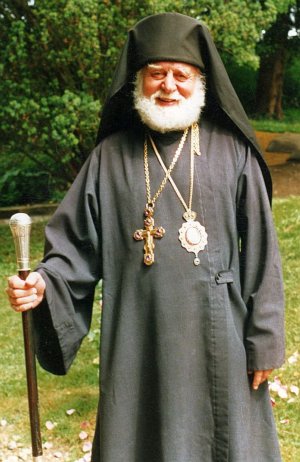 Archbishop Seraphim (Igor Aleksandrovich Dulgov) was born in 1923 in Moscow. In 1928 he left with his mother, first to Berlin and later to France. He received his primary education in a Russian school and in the Cadet Corps in the suburbs of Paris, where he had the obedience of serving in the altar and as a reader. During World War II, he studied at a French engineering school. After the war he graduated from the St. Serge Orthodox Theological Institute in Paris (1946-1950). He then worked at a factory in Versailles. He served as a sub-deacon to Bishop (later Archbishop) Nathanael (Lvov). In 1961 he was ordained a deacon and priest in Geneva, and then served at the Church of the Archangel Michael in Cannes. In 1971 he became an archpriest and dean of southern France, and later the rector of the St. Nicholas Church in Lyons. He had the intention of retiring to a skete of the Lesna Convent in France. In September 1993 he was tonsured a monk with the name of Seraphim. He was consecrated as Bishop of Lesna on September 19, 1993, in Geneva and became vicar of the Western European Diocese. On November 3, 1993, he became the ruling bishop of the Western European Diocese with the title of Bishop of Lesna and Western Europe; in 1995 he was named Archbishop of Brussels and Western Europe. After his retirement he settled in the Lesna Convent in France, and there departed in Christ on November 24, 2003.
How to Identify Whether a Saint is Orthodox or Catholic
The question of the Orthodox saints of France can be an historical one – one is interested in learning the history – or it can be a matter of curiosity, veneration, or a topic for pious reading.
For us, in addition to all of the above, there is also a practical issue. Why? For instance, when a Frenchman or a Swiss converts to Orthodoxy, what name should he take? We have a priest named Fr. Quentin. But name me a single Russian priest in pre-revolutionary Russia who would have known that there was such a name! Yet St. Quentin is a perfectly Orthodox saint of Western Europe. A priest will fly from South America to London to venerate the relics of St. Edward (and I am sure that when our priests see for "the health" or "the repose of" an Edward they would pass it off as non-Orthodox). But it turns out that Edward is a perfectly Orthodox name. And there are many such examples.
For example, when someone becomes Orthodox, what name should he take? He may, of course, retain his name if there is such a saint, such as the name John (there are St. John Chrysostom, St. John of Kronstadt, St. John the Damascene, St. John the Baptist), or he may intentionally take a new name. We had one boy named Charles. There is no saint named Charles. So when he became Orthodox, he was given the name of the Hieromartyr Harlampus (Charles and Harlampus are consonant in French).
I told you yesterday about our pilgrimages, when we searched for Orthodox saints in one location or another in France, read their lives, and sometimes painted their icons. You may ask: how can we determine who is an Orthodox saint and who is not? I implore you never to think of 1054 as some milestone, that one day prior to 1054 it was exactly one way, and the day after it was different. Rather, this was a lengthy process that began in the seventh century and ended with the seizure of Constantinople by the Crusaders in the thirteenth century.
The year 1054 was pulled out of history by the Latin Cardinal Baronius, who wanted to determine the exact moment when we were still Catholic (in his understanding) and then at what moment we ceased to be Catholic. Therefore, when we celebrated the millenium of Christianity in Russia, many Catholics approached me in Lyon and said: "Turns out you were Baptized by Catholics, since it happened before 1054!"
According to Bishop Nathaniel, when defining who is an Orthodox saint and who is not, we need first of all to understand that a holy saint of God has no not need of our glorification; he is glorified by the Lord, and whether or not he enters our church calendar is of no significance to him. Yet we ourselves need to know whose example we should or should not follow. Thus we believe all Western pre-seventh century saints to be Orthodox, but after the eighth century we should seriously study their influences. For example, if the saint lived here in northern France, then he was influenced by England, which remained Orthodox longer than any other Western European country. But if he lived nearer to Germany, then there were early heretical currents in that area. Do not forget that two centuries before 1054 the Creed had already been changed in the West! So Western saints from the ninth century on are, of course, venerable people, but not Orthodox saints. However, Bishop Nathaniel notes two or three cases of Orthodox saints in Bohemia even after 1054.
The Origins of Christianity in France
When our Lord Jesus Christ ascended, He instructed the Apostles to preach the Gospel to all creation. Their preaching, which began in Jerusalem and Rome and, according to the Apostle Paul, continued to Corinth and Ephesus, then spread even further. You know that the Apostle Paul made several missionary journeys. The Lord came at the right historical moment, for Christianity could spread rapidly by the roads of the Roman Empire, despite persecution. Although we are unaware of apostolic preaching in France,* the country quickly developed spiritually, and became famous for its outstanding preachers and martyrs.
Martyrs are the blood of the Church; martyrs are the Church's foundation. From this we see that the Christian message resonated with the Gallo-Romans. Tertullian, an ecclesiastical writer of the second century, wrote: "we were born only yesterday, but we have completely covered the Earth." Two centuries later the Blessed Augustine echoes him: "the greatest miracle is that yesterday we were nothing, yet now we entirely cover the universe." Of course, the "universe" in their understanding was the Roman Empire.
Lyon
Lyon is the ancient center of France, called Lugdunum in the Roman Empire. Christianity came to Lyon not from the Apostles, but from the Orthodox East (from which St. Pothinus came, while St. Irenaeus of Lyon was a disciple of St. Polycarp, who was a disciple of St. John the Evangelist). In 177, there were already many Christians in Lyon who were being persecuted (note that we Russians became Christian only in the ninth century!). Letters from Christians have been preserved from that time, and they describe the terrible persecutions that suddenly began on Holy Friday. A statue of a pagan goddess was erected and Christians were compelled to venerate it with everyone else (refusal meant being guilty of treason against Caesar). The Christians refused. At first, the weakest (children, girls, women) were taken in hope that they would not endure trial. On the contrary, the women and children were the most zealous. Then servants were bribed. They betrayed their Christian masters, saying that they "drink blood, do all sorts of other horrible things and, most significantly, do not worship Caesar." Following their testimony, thirty-five to forty people were thrown into prison. Among them were the maiden Blandina, the boy Ponticus, and the ninety-year-old Bishop Pothinus (who died of starvation in prison). Those who survived were thrown to wild beasts in the amphitheater. Blandina was first tied to a post in the Lyon arena – yet when the raging lions came, they lay down at her feet. Recall St. Gerasimus of the Jordan! From the lives of the saints we know that wild animals do not touch God's saints. But then she was bound in a net and thrown on the horns of an angry bull, which trampled her death.
We know the names of the martyrs from the first persecution, and the priest at our church in Lyon commemorates them during Proskomedia. When the amphitheater was excavated, the first divine service (amazing but true!) was served by the Orthodox in Lyon – although because of this the archaeologist, I believe, later got into trouble with the Catholics but, nevertheless, the first service was ours.
After the persecution of 177 came the persecution of 178, and then the third persecution, in 203. In that year, 19,000 Christians suffered martyrdom, including Bishop Irenaeus of Lyon. This demonstrates that by the beginning of the third century Lyon was already a completely Christian city. Saint Ireaneus wrote against the heresies. Yet it just so happened that the penultimate Roman Catholic Cardinal of Lyon built an ecumenical center there – so, in other words, a heresy center was built exactly on the spot where St. Irenaeus had once written a book against the heresies! Following the third persecution Lyon emptied.
So, when a Frenchman becomes Orthodox (I am referring to France, but this is also applicable to Germany and Switzerland), we should not say that he changed his faith, but rather that he returned to the original faith that once predominated in his land. We must revere the saints of the first centuries as our own. Those saints are our saints.
Marseilles
In Marseille there are also many saints. Cannes is located across from the island of St. Honorat, where the first monks lived that came from the East in the fourth and fifth centuries. Among them, I especially want to remind you of Sts. Victor of Marseilles and Vincent of Lerins (Lerins is the name of an island). St. Vincent of Lerins wrote an essay in which he defined the true Church.
I remember a Baptism in Lyon. We often baptize in French. During the Baptism, as you know, we read the Creed. In Slavonic it goes: "I believe in One, Holy, Universal, and Apostolic Church." And in French: "I believe in One, Holy, Catholic, and Apostolic Church."
A Catholic who was present heard the word "catholic" and asked: "So you are Catholic?"
I replied: "We are the real 'catholics.'"
He said: "The real Catholics are Roman Catholics, and you don't have a Pope."
I replied: "So this means, in your opinion, that those without a Pope cannot be members of the Church?"
"Yes!"
So then I said to him: "Bear in mind that across from Cannes is the island of Lerins, where a Western saint in the fourth and fifth centuries defined the true catholic Church, calling all to maintain that which is believed 'everywhere, always, and by all.'"
Even St. Ambrose of Milan characterized these islands as a place where saints struggle. You know that we celebrate the memory of the Holy Fathers that suffered martyrdom in Sinai and Raithu. And here on the island of Lerins monks were also martyred by the Saracens.
Paris
I want to dwell in particular on the life of St. Genovefa (Genevieve) of Paris. When Gallic merchants came to St. Simeon the Stylite, the latter said: "You have the great St. Genovefa." On top of his pillar he knew that Gaul is the home of St. Genevieve. In the fifth century Attila attacked Paris. The men intended to defend Lutetia, the island on which the Notre Dame cathedral today stands. But at the sight of Attila's hordes they lost spirit. A young woman, the thirty-year-old Genovefa approached them and declared: "Do not be afraid, but turn to fasting and prayer, and ask God to be saved!" Though they laughed at her, she again admonished them: "Call upon our Heavenly Father, take hold of the arms of prayer and fasting. I predict to you that by doing so, you and your families will be saved." She was a nun, born in Nanterre. From Nanterre she often went through the woods to the city of Saint-Denis, where the relics of St. Dionysius reposed, and so is often portrayed with the candle that lit her path. The men unexpectedly heeded her appeal. And indeed Attila's troops, which advanced in two columns, joined up in front of Paris, but for unknown reasons they went around the city.
I want to remind you of words from a sermon by Bishop Nathaniel, that the power of God is shown through those who most clearly, fully, and humbly acknowledge their own insignificance before God, their total dependence on God's will, and on the good and almighty love of God. They place complete trust in Him rather than in their own strength. All of these qualities are more often present in women than in men, because men have preserved a kind of ancient, pagan, and haughty arrogance. Men feel that they are strong and sturdy, while God's glory shines more greatly in women through their weakness.
The relics of St. Genovefa were vandalized in 1789 by the revolutionaries. The place and exact boulder on which the relics were burned is known. Likewise, Russian revolutionaries destroyed the relics of saints first of all, taking an example from their French teachers, who immediately destroyed the relics of Paris's patron saint.
The Return of Orthodoxy to the West
I want to remind you of a decree by St. John [of Shanghai and San Francisco] that asserts that we that who live in Western Europe should locate and venerate local Orthodox saints. Now we commemorate all the martyrs by name: St. Clodoald of Saint- Cloud, St. Germaine of Auxerre, St. Saturninus of Toulouse, and many others. Some time ago, our Archbishop Ambrose of Geneva compiled a service to the Orthodox saints of Switzerland.
Some Orthodox Saints of France are included in church calendars: for example, St. Irenaeus, St. Pothinus, and the Lyon martyrs. At one time during our diocesan conventions, the late Vladyka Anthony (Bartoshevich) had our priests find the names of Western Orthodox saints and include them in church calendars. Now such calendars with these names have been published.
Orthodoxy in France and Western Europe gradually disappeared – later in England, and sooner, the closer to Germany; in our area it happened later due to the influence of England. Orthodoxy returned to Western Europe with the Russians that immigrated here after the Russian revolution, bringing with them the faith that was once here.
Text compiled by Alexandra Nikiforova from audio recordings.
* Tradition says that when the Apostle Paul sailed to Spain, he disembarked near the Byzantine city of Aleria, Corsica. I have been there and the locals showed me the place of disembarkment.
Translated from Russian by Sophia Moshura
You might also like: