Source: Orthodox Church in America
"God reveals Himself in the silence of the heart." The early desert monks, followed by ascetic laborers of every generation, came to know this truth through their own, most personal experience.
We can acquire knowledge about God in many different ways, first of all through the Bible and the Liturgy. The question, however, is how we move from knowledge about God to knowledge of God, that is, to an ever-deepening communion with Him in love.
This is a critical question, especially when we find ourselves overwhelmed by some crisis or tragedy in our life that strains our capacity to believe. The same question arises, though, whenever we attempt to respond to some inner longing to know God personally and intimately. That longing is a gift that God bestows on us, one that corresponds to His longing for communion with us. As a contemplative Catholic sister once told me, "God has placed an insatiable longing for Himself in the depths of every human heart."
The ascetic tradition tells us that such longing is met and satisfied at the core of our being, in the inner recesses of what the Psalmist calls "the secret heart." After Holy Friday vespers some years ago I was in the kitchen of one of our monasteries, eating toast and drinking a cup of tea with an elderly priest who had spent many years in prison during the period of Communist rule in Romania. His only offense had been to preach the Gospel and serve the people God had entrusted to him. We spoke a little about spiritual trials, and he alluded to those years and to their brutality. His eyes betrayed his emotion as he recalled the loneliness and the pain he had endured. For a few minutes he was quiet. Then he slowly made the sign of the cross and said, "I thank God for those years…. Because they made me go inside."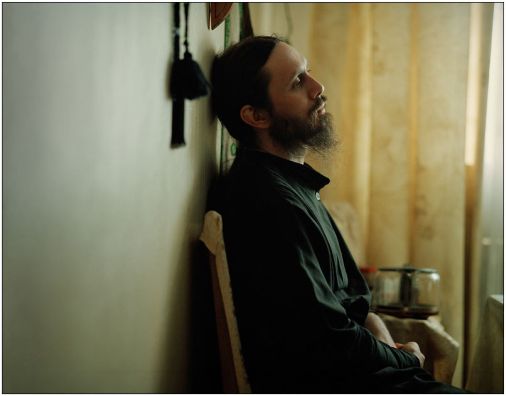 "They made me go inside." This man, and so many like him, could have given up to despair. Instead, by the mercy of God, he was able to enter the depths of his own being, the temple of the heart. That prison, with its bitter hardship and persecution, its loneliness and grief, was transformed into a spiritual desert. There he was able to engage in warfare with demons both within and without, and he emerged from it strengthened and renewed.
The thread that binds his experience with the intuition of the Catholic sister is their common focus on the heart. As holy people within the Body of Christ have always known, it is there that God most fully reveals Himself. After earthquake, wind and fire, it is there that His still small voice speaks ineffable words of consolation and peace. This is as true for ourselves, in the ordinary routine of our daily lives, as it is for a Father Arseny, a Mother Elisabeth, and all those who have suffered immensely, knowing they were bearing the Cross of Christ.
True knowledge of God is experiential. Reading the Holy Scriptures and spiritual writings, participating regularly in liturgical worship, devoting ourselves to works of love: these are indispensable if we are to acquire such knowledge. Yet much depends on our ability to read, pray and serve at the level of the heart.
To enter into that sacred space, in this culture and with the usual demands on our time and energy, is no easy matter. We may try to pray each day, read through the Prayer Book prayers, or open the Bible for a few minutes, all in an effort to "come into God's presence," as though God were "out there" and had to be invited or coerced to enter our life. We forget that the heart is more than a physical organ. It is a temple, where the Holy Spirit dwells with grace and power. Our task is to enter the space of the heart, to descend into its sacred depths, and to stand in humble awe before Him.
To make that inner journey, it is sometimes necessary to put aside books, liturgical tapes, even the Bible, and to spend a few moments in silence. The early morning or the evening after dark are good times to go into our room, close the door, and light a candle before an icon. There in that stillness we can collect ourselves and focus on what is most important in our life. We can make our confession, begging God's merciful forgiveness for our sins and shortcomings. We can offer up in thanksgiving the gifts of family and friends, of achievements and healings that we have received by His grace. We can make intercession, begging His mercy and healing for ourselves and for those we love, for our enemies and for all the people of His world. In that silence we can also allow Him to speak to us and to make Himself known.
Prayer of the heart is more than an oft repeated formula, more than a confession of faith and an appeal for mercy. The traditional words, "Lord Jesus Christ, have mercy on me!" have extraordinary power. They possess the power of the Name of the Son of God, which "upholds the universe." Those words, however, like all prayers, find their most true and powerful expression when they flow from the heart, from the depths of inner silence.
We strive to move from knowledge about God to communion with Him. This striving, which arises from an insatiable, divinely bestowed longing, leads us finally to the place of the heart. Miraculously, in the stillness of that place and in the presence of the Holy, we enter, for a moment at least, into Paradise.