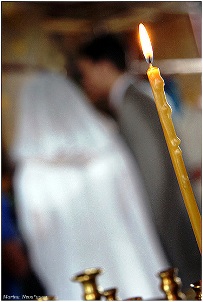 Some of the diversity that exists in our Greek Orthodox congregations is due to the numbers of converts that have begun to embrace the Greek Orthodox Faith. Many, either have converted to Greek Orthodoxy as a single person, or have married a Greek Orthodox Christian and converted after marriage.
This article will focus on those marriages where one non Greek spouse converted to Greek Orthodoxy, and the other has remained non-Orthodox. The numbers of these marriages comprise only a small segment of the interfaith marriages populating our churches. All interfaith marriages, that is, an Orthodox married to a non-Orthodox, have ongoing challenges. However, the couples who are the topic of this particular article have their own unique challenges and deserve our attention.
Meet Katherine and Edward
Katherine (30) and Edward (29), have been happily married for three years. Katherine is a psychotherapist, with Protestant roots, who entered the Greek Orthodox Church about five years ago. Edward owns his own bicycle shop. He refers to himself as a "non-practicing Roman Catholic." He attends Katherine's church periodically. They have no children.
When asked to describe some of their interfaith challenges, Katherine began to offer some background information. "I first heard about Orthodoxy while attending a workshop on spirituality. Even though the workshop leader was not Orthodox, he spoke with admiration about Orthodoxy, and his remarks piqued my curiosity." She pauses, overcome by some emotion, then continues. "I tried many types of faith experiences that didn't seem like a good fit. But with Orthodoxy, it was different. Almost from the beginning, the information that I read about the Orthodox Church made me feel like I had finally found a home."
Listening attentively, Edward responds. "That's true. My wife loves her Faith, and I respect that about her. But, I'm different. I feel more comfortable with God on a mountain trail, or when I'm fly fishing one of the local trout streams. I'm not very religious. I go to church occasionally with Katherine because I know she appreciates it."
"That's also true," Katherine remarks. "And at first, that was so hard for me. We almost didn't get married because my faith meant so much to me. And Ed's faith was so, well — nominal. Only after a great deal of personal struggle, and some guidance from my pastor, did I finally consent to accept his proposal. And I'm glad I did, because I feel as though that's what God wanted.
After another pause, Katherine continues. "And it's not been easy for many reasons. But one of the hardest things was finding a place for myself in the Orthodox Church, then getting married, and trying to cultivate my own religious development while also helping my husband to adjust. He was really put off by all the emphasis on culture, and the unfamiliar rituals. For a long time, he questioned me about it. But over time, we kind of got over this, and we're now attending together on a more regular basis."
Another pause, then Katherine again continues. "I guess the liberal amounts of English that are used in our church, along with the genuinely warm and welcoming atmosphere towards newcomers, helped us find a home here, and have kept us both coming back. I know this is a Greek Orthodox Church, but I don't come to church because I'm interested in becoming Greek. Not that there is anything wrong with that. I come because I love Orthodoxy. I would come even if a good part of the liturgy were done in Greek. But, I know that it would be really hard for Ed, so I'm glad there is a lot of English used here."
Ed nods in agreement, then adds, "Ed nods in agreement, and adds, "I probably wouldn't be here talking with you if Katherine's Church didn't use as much English. As silly as it sounds, this made a big difference for us. English makes me feel more comfortable. It also helped me crack what I call the cultural barrier, so I could begin meeting some of the many wonderful people who come here. And even though I'm definitely not ready today. Who knows, when the kids arrive, I might even consider becoming Orthodox. But that's still a good distance away."
Our interview continues, but for our purpose here, it is not relevant. The question arises — what can we learn from this conversation between Katherine and Ed?
As we stated above, interfaith couples face challenges in their marriages. They are addressing their own religious needs as an individual, and as a couple. Couples, such as Katherine and Ed, face similar, yet different challenges. This brief interview reveals three challenges.
Because these couples do not have extended families attending the Greek Orthodox Church, they have no social support system that families offer in a new social setting. Trying to find "a place" in the Greek Orthodox Church without extended family, can be difficult.

Since religion, and not ethnicity, is the primary reason that attracts and holds many converts, they are challenged to find unique ways of respecting that congregation's emphasis on ethnicity, while practicing their Orthodox faith.

The Orthodox partner, will also be challenged to find ways of helping the non-Orthodox spouse, gain a respect for Orthodox forms and rituals, as well as the congregation's emphasis on ethnicity.
How can the Church help?
It is difficult to determine just how many couples like Katherine and Ed actually fill our pews on Sunday. Yet, it would not be a stretch of your imagination to suggest that in most of our churches today, this type of couple, is rare. However, with the increasing media emphasis on religion, including Orthodoxy, these couples may not be atypical in the near future. Thus, considering the needs of these couples could make good sense, in our efforts to minister to them and retain them within our Churches. Finding ways of assisting both the Orthodox and non-Orthodox partners, will ensure their continued involvement. I would like to offer the following observations:
The Orthodox partner's love for Orthodoxy generally keeps him or her engaged in one of our Churches. Remember, this is a good first step in understanding why they come to our church.
Using English, in and out of our services, will facilitate their continued involvement in our churches.
A warm, welcoming response from all segments of the church community will also make a positive difference in their support and involvement.
And finally, one additional reminder is appropriate here. Evidence of converts in our churches is one clear reminder, among many others, that the work of the Holy Spirit continues. Amen.