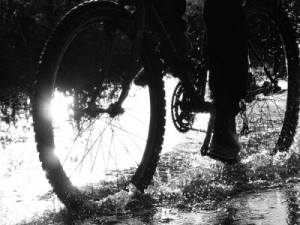 Writing about fasting is, in general, daunting. First, so much has already been written about it that one is sure to repeat commonplaces. Second, I have nothing much of which to boast; I am no great faster, although I could have achieved more in the seventeen years of my church life. But perhaps the reader might be interested not only in the experience of ascetics, but in that of outsiders as well. As is well known, one learns best from the mistakes of others.
I fasted best of all in the beginning of the nineties, when my church life had just begun. Neophyte ardor is well known, the desire to jump to the very top of the stairs at once… It goes without saying that one concentrates on the food side of fasting; other facets are more difficult, but here everything is concrete: what one can eat and what one cannot. My spiritual father, it is true, cooled my zeal by saying: "For you, Vitaly, the main principle of fasting is not to create extra problems for those close to you." It amuses me now to recall that then I would really puzzle over the question of whether one was allowed to eat pasta if the label says that it contains egg powder. When I asked my spiritual father, he answered that I was straining at a gnat, and swallowing a camel.

Nevertheless, notwithstanding my inexperience (to put it mildly!), that was real fasting. Not because I did not eat something, did not watch certain things, did not go to certain places — but because my attention was concentrated on the state of my soul. I scrutinized myself – and, deeply disliking what I saw, I rushed to Confession as one with acute pain rushes to the dentist.

But the years went by, and the neophyte ardor cooled down imperceptibly. I learnt much about fasting, read intelligent, profound books, was no longer afraid of labels with egg powder, and my mother no longer referred to fasting as "starvation" — but something had changed. I had gotten used to fasting. It is nothing especially difficult. You don't eat certain things, you don't drink certain things, you stay away from certain entertainments, you pray more, you visit church more often, and receive Communion more often. One can do this automatically; no special will-power is even necessary – if, of course, you do not exhaust yourself by keeping to the full strictness of the Typikon (which is not required of a layman anyway). But what is the point of such automatism?
But this automatism is characteristic of very many church people. Fasting exerts little essential change on their lives. The food rules go without saying. What else? They'd visit church on Sunday even outside the fast, they'd receive Communion once every two or three weeks, but now they're receiving it weekly (which is a real difference, true.) Before they watched almost no television, and now they are not watching any at all. And they quit visiting those who do not lead a church life, not to be tempted by cutlets. And performing good deeds? If one is already accustomed, then the time of the fast is no different from any other; and if one does good to people only during the fast, then serious questions about its good arise.
This is why in the Russian Orthodox blogosphere, many ask the question: why fast? We are all literate, we can give entire lectures on the meaning of fasting to non-believers. But if we are honest, does fasting really bring us believers so much closer to God? For the time being, people keep such questions to themselves as they find them inappropriate — but sooner or later, thoughts hidden in the depths of one's soul come out into the open. Naturally, it gives rise to heated discussions, sometimes meaningless and pitiless ones (for instance whether shrimp and calamari are fasting fare, whether one is allowed to polish one's fingernails during the fast, and what the "two cups of wine" allowed on Saturday and Sunday equal) — but whatever direction the polemics go, the starting question always remains the same, and is addressed to each one of us. What does fasting mean to us? A change in the habitual way of life — or "corrective work" you perform upon your own soul?
Sometimes this question is waved away in simplicity, reducing it all to ecclesiastical discipline. If you are a member of the Church, you must obey the rules without any arguments. It is funny that I have heard the same line of argument from Orthodox Jews as far as kashrut is concerned: one is not to seek the logic in it; it is written this way and one must obey; and the one who doubts is of little faith. There is some truth to this approach (the Church's discipline is not there for nothing; if people are allowed to act "according to the wind in their heads" — it will all break to pieces). But there is a lie in this approach as well. The lie is that the thoughtless obeying of rules leads to their soulless fulfillment. But what is the sense in performing such rules if it turns one into a robot? We understand very well that the meaning of asceticism is not in external limitations, but in the reconstruction of the soul marred by sin; limitations are but tools for this task. They have no value in and of themselves.
That is why each of us needs to consider seriously and frankly why we submit to the Church's Typikon, why we observe the fast with our bodies and limit ourselves in this and that. This kind of intellectual work is, in my opinion, a necessary preparation for fasting.
I know the answer for myself, and the answer is very simple. Fifteen years ago I had the opportunity to speak with a well-meaning atheist. "Alright," he said, perplexed, "I can understand that you have come to believe in God, decided to save your soul and so on. But why would sausage bother God? Why do you have to fast?" Then I told him: "To demonstrate that I am serious in my intentions." Only much later did I understand that this is really the case.
I have come to believe in God. What does that mean? That I am in an unceasing dialogue with God, contemplate the uncreated light, and perceive floods of grace? No, of course not. My faith is weak, and my will is weak. But do I want my faith to be stronger? Yes, I do. Do I understand that my love for God is weak? I do. Do I want to love Him more? I do. And I realize perfectly well that love grows only if it is reflected in something. As long as it remains in the sphere of vague feelings and thoughts, love has not yet developed. Love needs to be embodied in something external, in actions demanding some effort of will. Let it be the temporary rejection of sausage. It is not something God wants, but something that I want. If I eat sausage during the fast, God will not love me any less for this. Will I love Him less? If I am not ready to limit myself in anything at all for His sake, do I need Him?
I've read in spiritual literature that the refusal of meat and dairy products is useful for one's soul in itself, because it is easier to pray without eating meat and fewer sinful ideas appear and so on. But I do not know. Perhaps this is the case for the higher stages of asceticism, but I am far from attaining such heights and personally have never felt any correlation. For me, it is quite enough that I restrict myself for His sake. Not out of fear that some believers would frown upon me; not blindly obeying the Church's discipline, but in order to demonstrate – not to Him, but to myself – that my faith is not shallow, not a brain game, but the true direction of my life.

Perhaps such a demonstration may seem childish and naпve. Like, in the third grade, hopping on one leg home from school for a girl's sake. But for me, it is serious. Whatever requires an effort of will is always serious. I take the Church's fasting regulations not as a "military order," but as a useful tool. I personally find it useful, and let others decide for themselves.
Here is one more analogy I thought of during the first year of my church life (I then spent much time bicycling during the summer). Spiritual life is never uniform. Like a road, it goes uphill and downhill. If you do not pedal intensively now and then, you will go slower at first, and then you will fall down altogether. Fasting is going uphill, which means one has to make an effort.
Translated by Olga Lissenkova
Edited by Hierodeacon Samuel (Nedelsky) and Samantha Kessel