The event was hosted by Sydney's St Sergius of Radonezh Benevolent Society. This year also marks the conclusion of a 10-year plan to reorganize and expand the biggest Russian center for the aged in Australia.
The Russian neighborhood in the cozy corner of Cabramatta is known as Sergiev Posad [the city in which Holy Trinity-St Sergius Lavra in Russia is located]. Some 250 people live and provide care in this facility. Of them, 168 are housed in hospital-level rooms, the other 26 in three-bedroom units.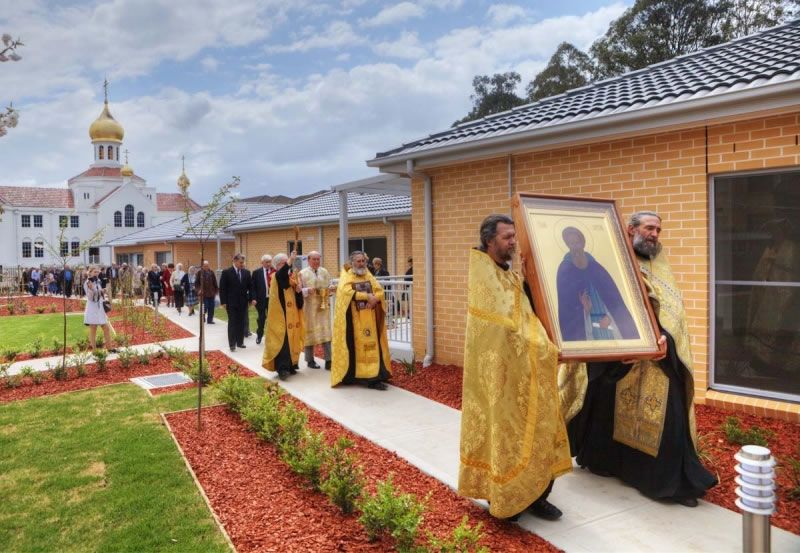 The center also recently launched a day-care program for seniors living at home. Medical attention and food services are provided by about 180 members of the Society. After Liturgy, performed by the priests of the Diocese of Australia and New Zealand of the Russian Orthodox Church Outside of Russia, a procession of the cross was held. Thereupon, a ribbon-cutting ceremony was held at the new building of the senior center. Over 400 guests then gathered in its new dining hall, in which an icon of St Sergius painted by masters at Holy Trinity-St Sergius Lavra was placed to mark the occasion.
Protopriest Nikita Chemodakov, Dean of New South Wales, then told the attendees about the history and importance of the legacy of St Sergius for the people of Russia. The head of the Society, Mr Alexander Khripko, then spoke: "We have provided a new large building for the needs of the center, which completes the ensemble of modern facilities, uniting them all in a single structure. Sergiev Posad, without a doubt, is different from any other building in Cabramatta. Built exactly according to plan, it is modern and comfortable. The entire property has trees and flowers, and there is a splendid view of Holy Protection Church." Russian Consul Mr Yury Kovalko then read congratulations from Russian Ambassador VN Morozov. Next year, the Society will be celebrating its 70th anniversary.