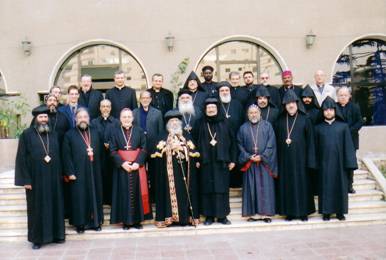 Top Christian religious leaders met in Cairo yesterday, including Tawadros II, patriarch of the Coptic Orthodox Church. Their goal is to unify all Christians to face the challenge of a country dominated by the Muslim Brotherhood. The new council is set up after a week of prayer for Christian unity across Egypt.
Cairo (AsiaNews) – A Council of Churches has been officially created. Egypt's top Christian religious leaders met at the Coptic Orthodox cathedral of Saint March in Cairo's al-Abbasiya neighbourhood to sign its constitution.
Representatives from the country's five main denominations were present, namely the Coptic Orthodox Church, Catholic Church (Coptic, Greek Melkite, Maronite, Syrian, Chaldean, Armenian and Latin), Evangelical Church, Episcopalian Church and the Greek Orthodox Church.
In addition to the Coptic Orthodox Patriarch Tawadros II, Coptic Catholic Patriarch Ibrahim Isaac Sidrak and Greek Orthodox Patriarch Theodoros II of Alexandria were also present.
The creation of this Council crowns a week of prayer for Christian unity that began on 10 February. Traditionally, the week is held at the end of January, but this year it was postponed because of the anniversary of the Arab Spring on 25 January.
Prayers were said throughout the week in Coptic Orthodox, Catholic, Evangelical, Episcopalian, Anglican and Greek Orthodox churches to fulfil the Chris's words: ". . . that they may be one, as we are one" (John, 17:22).
"In light of the difficult moment Egypt is going through nowadays, we need to show solidarity, reinforce and sustain ourselves and put our hope in the living Christ (Tim, 2:4-9)," week organisers and Catholic Church spokesman Fr Rafic Greiche said. "Unity is an utmost necessity in order to pursue the Church's mission in bearing witness to the Christ".
"Creed and belief have theologians, but we have charity and love and my heart is open to all," Patriarch Tawadros II said when he recently received the Assembly of Catholic Patriarchs and Bishops.
This step will give hope to Egypt's Christians. Mutual support will give them strength, especially at a time when extreme fundamentalism rules society increasing divisions, discrimination and refusal of the other. (AA)
Source: Asia News