The Book of Revelation is often confusing. But, ironically, it enlightens baptism for us and draws us into a much deeper experience than you ever could have imagined!
Because of a recent baptism, I think a post on Revelation, or Apocalypse, by St. John is appropriate (please note, it's "Revelation," singular, not "Revelations," plural). To read the passage (Revelation 3:14-22, the letter to the Laodiceans), click here.
This may seem like an odd choice for a passage. Indeed, Revelation isn't read liturgically at any service throughout the church year.
However, the imagery within Revelation plays a very important part in the life of our church.
This passage, as we'll see, illuminates the meaning of baptism. In fact, it is baptism that makes us hot or cold – that is rich – rather than lukewarm.
First, a bit of background…
Revelation begins with two short introductions and then 7 letters written to 7 different churches that existed in the ancient world.
This letter is the 7th and last of the letters and it was written to Laodicea; though it addresses one particular church, the message is for all churches, at all times, in all places.
But knowing a bit more about this city will help us understand it a bit better.
Laodicea is situated in the Roman district of Phrygia in the west central part of Anatolia. Today, this is located in the southwest region of modern day Turkey.
In the first century – when John wrote his Apocalypse – it sat on a major trade route and, as such, was known for its riches. It was also a major banking center and it was well known for its medical school. In particular, Laodicea was well known for its ophthalmology school.
Though this town was rich in material goods, one thing it did not have was good water. In fact, like many places around the United States today, it had to have water shipped in.
To the north, was a city called Hierapolis, which was famous for its hot springs. In fact, even to this day, you can visit this city and see these springs. In the first century, an aqueduct was built that carried the water from Hierapolis to Laodicea but, after traveling 5 miles, the water was no longer hot – it was merely lukewarm.
The other water source was to the southeast in a town called Colossae. This water came down from the snow capped mountains. An aqueduct was built to bring this water to Laodicea as well. But, after traveling 11 miles in the Turkish heat, the water was no longer cold – it was merely lukewarm.
What happens when you boast of being hot or cold when you're only lukewarm?
And it is, at this point, that the stage is set for St. John's famous remarks:
I know your works: you are neither cold nor hot. Would that you were cold or hot! So, because you are lukewarm, and neither cold nor hot, I will spew you out of my mouth. (Revelation 3:15-16 RSV)
But what is St. John referring to?
Of course, being hot or cold was a good thing but being lukewarm was not.
So, what makes them lukewarm?
The Laodiceans believed that their riches made them not lukewarm, but hot like the soothing springs of Hierapolis or refreshingly cold like the water from Colossae.
Remember that Laodicea had fine medical institutions and sat on a major trade route. In fact, the local farmers were well known for raising sheep with black wool. This sparked quite a fashion industry and clothes from Laodicea were very much sought after.
It was in these riches that the Christians of Laodicea boasted. But the truth of the matter is that these riches are nothing in light of the crucified Messiah.
We fall into the same trap
As Americans, we live not only in the richest nation in the world, but we live in the richest nation through all time.
Our money can fulfill almost any desire.
Want a bigger home? No problem, the realtor has just the house and the banker has just the loan.
Want to look prettier? No problem, the plastic surgeon is ready for you.
Want to be entertained? No problem, pick your movie, book, or pleasure and you'll never be bored – no matter the time or day.
Want to keep up on the latest trends? No problem, the mall has all you could desire in clothes or electronics.
We are rich beyond our wildest dreams.
But herein, says St. John, lies the problem.
For you say, I am rich, I have prospered, and I need nothing; not knowing that you are wretched, pitiable, poor, blind, and naked. (Revelation 3:17 RSV)
Worshipping Creation instead of the Creator!
Their riches have become idolatry – our idolatry!
God created humanity in his image. This means we had a responsibility and authority over creation. We were called to be good stewards, taking care of creation. We were the means by which God was to run his world.
But, instead of being good stewards, we handed our power and authority over to creation itself.
We have become creation's slaves.
Now, instead of taking care of creation, we are subject to all sorts of idols – money, power, sex, greed, hunger, and the likes.
And it's in these things that we find our fulfillment. It's in these things that we boast of being "rich."
And it's for these reasons that God vomits us out of his mouth, and we find that we aren't rich after all.
But, we have a compassionate and loving God who offers us another way.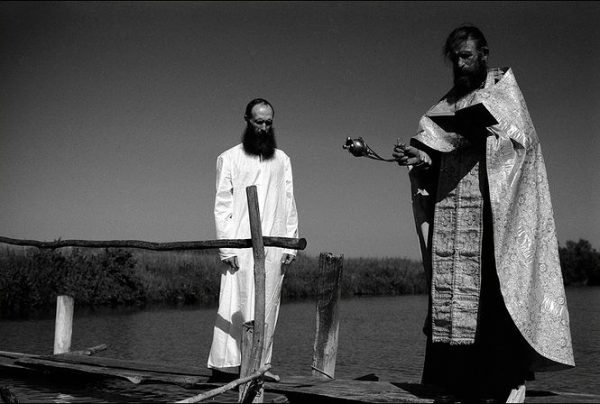 Following in the footsteps of the Messiah
He offers us, like the Laodiceans, the way of the Messiah.
Therefore I counsel you to buy from me gold refined by fire, that you may be rich, and white garments to clothe you and to keep the shame of your nakedness from being seen, and salve to anoint your eyes, that you may see. (Revelation 3:18 RSV)
But what does he mean by this?
Simply put, he's referring to baptism, the Mystery (sacrament) that makes us a new creation and a participant in the life of the Messiah.
The white garments refer to the baptismal gown, a white garment that is given to the newly illumined (baptized) child with these words:
The servant of God is clothed with the garment of righteousness, in the name of the Father, and of the Son, and of the Holy Spirit. Amen.
The salve for the eyes refers to the Holy Chrism, which is bestowed on the newly illumined right after baptism. The priest anoints the senses while saying:
The seal of the gift of the Holy Spirit. Amen.
Our senses and eyes are opened to a new way of seeing.
Being baptized is the sort of richness we should strive for. Being baptized is what mystically unites us to Christ and sets us frees us from our passions – no longer a slave to creation.
Only when we put on Christ have we truly become rich.
You see, the death of the Messiah on the cross is the means by which God dealt with sin and death.
The victory won by Jesus is a victory that frees us from our idolatry. No longer are we subject to powers within creation. We are freed from our shackles to power, greed, sex, money, gluttony, and the rest.
By means of baptism, we are a new creation, rich with God's mercy and love.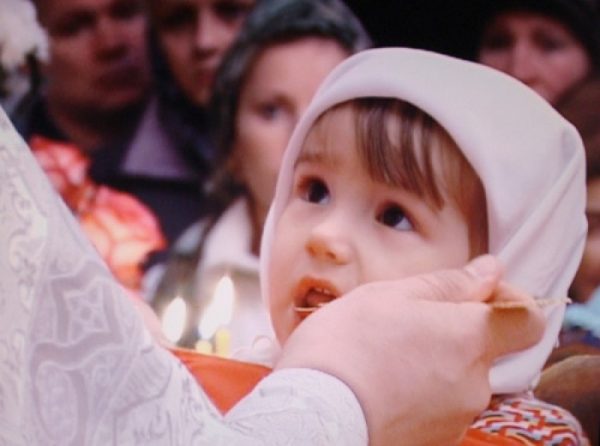 But wait, there's more!
Now, having become rich, St. John tells us that God is at the door.
Behold, I [Jesus, the Messiah] stand at the door and knock; if any one hears my voice and opens the door, I will come in to him and eat with him, and he with me. (Revelation 3:20 RSV)
This is a reference to an every deeper richness that baptism invites us to: communing with Christ in the Eucharist. We are washed clean to be able to sit at the table of our Lord.
But that's not all. It's in this intimate meal with the Messiah, that our true riches are fully realized.
He who conquers, I [Jesus, the Messiah] will grant him to sit with me on my throne, as I myself conquered and sat down with my Father on his throne. (Revelation 3:21 RSV)
What an image! Those who share the meal are strengthened to "conquer" as Jesus conquered death.
What a privilege!
We are allowed to take a place next to the Father, along with Jesus, and regain our original intent: to share God's sovereign rule over the word, becoming good stewards of new creation.
Washed Clean, Clothed with Righteousness, Communed with God, and Sitting on the Throne
Through this letter to the Laodiceans in Revelation, we get a glimpse into the richness of baptism.
When we thought we were rich, when we thought we had everything we could wish for, when we thought we were refreshingly cold or soothingly hot, St. John steps in and reminds us that we're not. We're only lukewarm.
But he doesn't leave us there.
He invites us to into baptism to experience true richness.
He invites into chrismation to see what true hot and cold is all about.
He invites us to dine with the Messiah himself, who, in turn, sits us down on the throne of his Father!