February 20, 2014
ANCHORAGE, AK [OCA]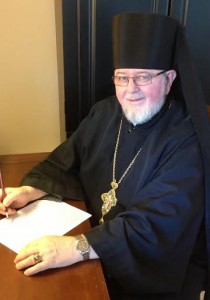 Archimandrite David [Mahaffey] will be consecrated to the episcopacy at Saint Innocent Cathedral here on Friday, February 21, 2014.
Delegates to an Assembly of the Diocese of Alaska held on September 15, 2012 had nominated Father David, the diocese's Administrator and Chancellor.  On October 16, 2013, Archbishop Benjamin, Locum Tenens of the Episcopal See of Sitka and Alaska, presented his name to the members of the Holy Synod of Bishops, who elected him to fill the vacant Episcopal See of Sitka and Alaska.
This evening—Thursday, February 20—Great Vespers will be celebrated in conjunction with Archimandrite David's "Nomination and Proclamation of the Bishop" at 6:00 p.m.  A reception will follow in the cathedral hall.
The Consecration Divine Liturgy will be celebrated tomorrow at 9:00 a.m.  His Beatitude, Metropolitan Tikhon, will preside, assisted by His Eminence, Archbishop Benjamin; His Grace, Bishop Michael; His Grace, Bishop Ireneu; His Grace, Bishop Irénée; and others.
The consecration banquet will be held at the University of Alaska's Lucy Cuddy Center at 7:00 p.m.
Born in Altoona, PA in 1952, Archimandrite David was received into the Orthodox Christian faith in 1975, two years after his marriage to the former Karen Meterko.  He received his Master of Divinity degree from Saint Tikhon's Seminary, South Canaan, PA in 1997.  In 2003, he graduated from the University of Scranton with Bachelors degrees in Theology and Philosophy.  Two years later, he received his Master of Arts degree in theology from the same school.
He was ordained to the diaconate in 1981 and served throughout the Diocese of Pittsburgh and Western Pennsylvania.  After his ordination to the priesthood in 1993, he served as rector of Saint Michael Church, Old Forge, PA until 2006, when he assumed the pastorate of Holy Trinity Church, Pottstown, PA.  In 2009, he was assigned rector of Saint Nicholas Church, Bethlehem. He and his wife, who fell asleep in the Lord in 2007, raised four children.
Father David served as a graduate assistant in the Theology Department of the University of Scranton, adjunct lecturer at Saint Tikhon's Seminary, and adjunct lecturer in theology and philosophy at Alvernia University, Melrose Park Campus, Philadelphia, PA.  He has served in a wide variety of capacities in the Diocese of Philadelphia and Eastern Pennsylvania, including dean of the Philadelphia Deanery.
In related news, a podcast interview with Archimandrite David recently was posted on Ancient Faith Radio.
Additional information and photos will be posted as they are received.
Source: OCA