II. Archbishop Augustine of Lvov and Galicia 
I first met His Beatitude, Metropolitan Vladimir, in 1973, when he was Rector of the Moscow Theological Academy and Seminary. My father, a priest, brought me into his office as a candidate for becoming a seminarian. I remember my sincere admiration for this great man.
Since much that is interesting and good has already been said about our Primate, I will not offer an evaluation of his activities, but will rather simply recall three stories from my life that are associated with His Beatitude.
During my first year at the Moscow Theological Academy, while preparing my documents in one government office, I ran into a small problem, but one whose resolution required bureaucratic red tape and an extended period of time. I very much wanted to get this done more quickly, and I appealed to Vladyka, the Rector, for help in this. Now I remember that this was, to put it mildly, audacious and bordering on arrogance. Archbishop Vladimir had every official and moral right to reply to me like this: "You're a normal person, even the son of priest. You should understand how the civil authorities would react to my intercession" (this was 1975!). However, having heard me out, he picked up the telephone, dialed the necessary number, and said: "When can the student Markiewicz be accepted? I implore you to help him." Everything was decided at lighting speed. For me, this was evidence not only of Vladyka's paternal regard for students, but of a very rare (for those days) respect for him on the part of government officials.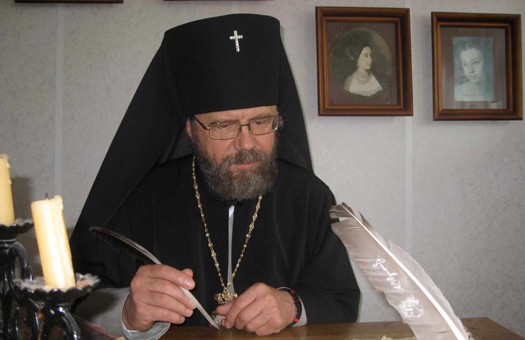 Another incident. In 1989 I, a parish priest, came to Paris by invitation of students who were friends of mine at the St. Serge Orthodox Theological Institute. Two days before my departure from France I went into the church. During the Liturgy a church server came up to me with the tray for donations, while in my pocket I had only my last francs, which I had reserved for two days of very modest eating. It was somehow awkward not to respond to the server, and I thought that I would have to fast, like an Egyptian in the desert, for my last two days, so I placed my small savings on the donation plate. That evening I went to pray at the Three Hierarchs Church and met with Metropolitan Vladimir, who was then Exarch for Western Europe and had just returned to Paris from some country. We talked, and then he invited me to a festal dinner with a small circle of very respected people, and even gave me some money, which was enough not only to eat, but also to buy presents. Truly, the Lord returned the church donation one hundred fold, although I had in no way hinted to Vladyka about my embarrassment…
I would also like to note that the Holy Synod of the Ukrainian Orthodox Church chose me as a bishop in 1992 by recommendation of His Beatitude. Although I knew what difficulties lay ahead of me in the devastated Lvov Diocese, the trust and hope that he showed me by this proposal were such an honor to me that, even if someone had scared me to death, I would still not have hesitated.
Finally, I consider it to be the most vivid and convincing evidence of His Beatitude's spiritual and moral greatness, of his culture and nobility, as well as of the general respect for him not only in Christian circles, but throughout the whole world, that he was chosen as chairman of the UNESCO committee for the preparation of the celebrations of the 2000th anniversary of the Nativity of Christ. After all, they had plenty of people from whom to choose…
Translated from the Russian.