We are about to enter the Apostles fast, which is almost certainly the least appreciated fast of the church calendar. Sometimes it can feel like we just finished Great Lent and started celebrating Pascha when the Apostles' fast arrives. Now when summer is just beginning, we have to fast again, and we don't even get a full feast at the end of it… It can sometimes feel like an unwelcome chore. Rather than "suffering through it," why not embrace it? Let's use it for what it is – another opportunity to fight against the passions and grow spiritually. Let's also use it to teach our children about these two great saints, Peter and Paul, who are pillars of our church.
Let's start with the obvious. Read the Bible (or a children's Bible) for 5 minutes, 10 minutes, or even 15 minutes each day. This fast is a great time to read from the Epistles of Peter and Paul, as well as the Acts of the Apostles. Pick passages that will engage your children. There are numerous coloring pages depicting scenes from the writings of the apostles available around the web. This is helpful for choosing which passages you want to read and a great way to reinforce what you've read to your child.
Since it often helps children to have something concrete to connect to what they've read, below you will find a few enrichment activities to supplement the readings. All of the ideas below can be adapted for younger or older children. So, get out some crafting supplies, or even just some paper, and get ready to create…
1. Sts. Peter and Paul Learning Book: Use the links at the bottom of this article to create a learning book for your child. Since you can print as many copies as you want, each child can have his own, and you can pick and choose pages based on each child's ability. As mentioned above there are coloring pages for the little ones, and there are also word puzzles for older children. Do an activity a day or every few days, and at the end of the fast bind them together to make a keepsake book.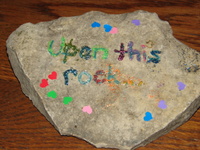 2. Rock Craft: Find (or buy) a large rock. Let your child paint or decorate it. Then write (or let your child write) "…upon this rock I will build my church" Matthew 16:18. Depending on space and the size of the writing you could add more of the verse. I wrote the words in markers, and the girls traced with glitter glue. They added heart stickers for the final decoration.
3. Love Is… Poster: Watch the video above for simple instructions on creating this poster. Write some of St. Paul's adjectives describing love from 1 Corinthians 13 on a poster board. Then ask your child what love means to him. Is love cuddling with Mom, or playing ball with Dad? Have your child draw or take pictures of things that represent love for him. You could also use mementos, perhaps tickets to the circus or a special family outing. Have your child glue the pictures or mementos around the poster. You can see our example here below.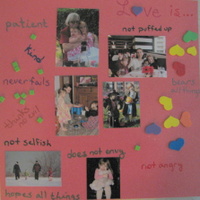 4. Although we generally focus on Saints Peter and Paul, why not use the fast to learn about all of the twelve disciples. I remember that as a child, I always found it hard to remember the names of all twelve disciples. These coloring pages of the twelve with names and symbols are perfect for helping children learn and remember who they were (scroll to the bottom of the page to find them).
5. Finally, when the fast is over, don't let the feast slip past unnoticed. If your church doesn't have a service, say some special prayers or read the Akathist to the Apostles with your family. Then, prepare a celebration. Throw up a few decorations. If you're like me, you probably have a few leftover streamers from the last birthday party you held. Make a special meal. This year will be a fish, oil, and wine day. Isn't salmon the perfect main course to celebrate these fishers of men?
The links below are only a limited selection of children's printables related to Saints Peter and Paul. You can find many others if you want to do more. Some of these sites offer multiples pages, so I've listed the main page(s) and you can click through to individual activities. If your child is a big computer fan, there are also a few sites that offer online games and quizzes about the apostles.
Coloring Pages:
Scroll down to New Testament coloring pages in the left column
Puzzle Pages:
Online Games and Activities:
Other Lesson Plans and Crafts:
Peter's Denial: includes story, coloring page, quizzes, and puzzles
The Road to Damascus: includes story, coloring pages, quizzes, and more. At the bottom of these pages you will also find lessons by age.