In cooperation with The Antiochian Orthodox Basilica of St. Mary in Livonia, MI, the Arab American National Museum of Dearborn is presenting works by the world-renowned artist Vlasios Tsotsonis from March 1-June 1, 2014. Tsotsonis' artwork is found in churches around the globe, including one of Christianity's preeminent pilgrimage sites, Jerusalem's Church of the Holy Sepulchre. This special exhibit is titled "Sacred Scenes: Icons of the Orthodox Church" and is available for viewing in the Main Floor Gallery of the Michigan museum.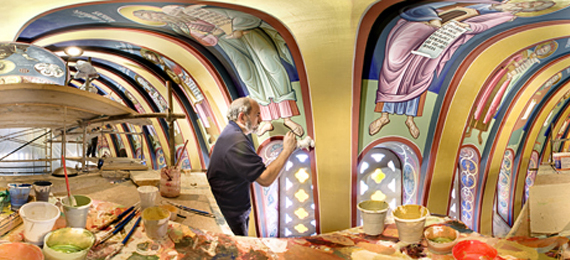 In addition to original, large-scale pieces by the artist, the exhibition explores the establishment and growth of Arab American Orthodox communities. Also included are studies for work Tsotsonis is completing during the run of the exhibition at St. Mary in Livonia, home to the artist's first U.S. pieces.
Visit the Museum's Website for gallery hours and details.
Source: Antiochian Orthodox Christian Archdiocese of North America