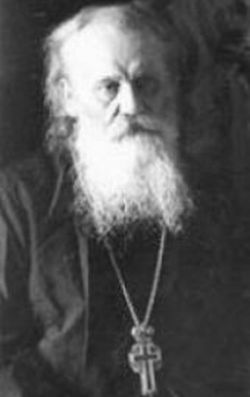 The Holy New Hieromartyr Kronid (in the world Konstantin Petrovich Liubimov) was born in 1859 in the village of Levkievo, Volokolamsk uyezd, Moscow province. In 1915 Archimandrite Kronid was appointed superior of the Trinity-Sergius Lavra, remaining in that position until 1920, when it was closed by the Bolsheviks. 
Archimandrite Kronid then lived for seventeen years in Zagorsk (known before and after the Communist period as Sergiev Posad, the town surrounding the Lavra), during which he continued to serve as de facto superior of the monastic brotherhood. Archimandrite Kronid was arrested in November 1937, by which point he had gone blind, and imprisoned in the Taganka prison in Moscow. He was tried with fifteen people, ten of whom were monks of the Lavra. Accused of "counter-revolutionary activities," eleven were shot and four were sentenced to ten years of hard labor. To the question of how he related to the Soviet power, he replied: "I am by conviction a monarchist, a follower of the True Orthodox Church, and I recognize the existing Soviet power as a believer: it was sent to the people as a test of faith in God's Providence." Fr. Kronid was sentenced as the "leader of a counter-revolutionary monarchical group of monks and clergy." He was shot in Butovo and buried in a mass grave.
Archimandrite Kronid was glorified as a saint among the New Martyrs and Confessors of Russia by the Moscow Patriarchate in August of 2000.
The following is a remarkable, inspiring, and courageous first-hand account by St. Kronid about his battles with blasphemous thoughts and the despair that came with them: 
One evening, while standing in the Church of Sts. Zosima and Savvaty during the Vigil, terrible, horrible thoughts of disbelief, doubt, and blasphemy suddenly and unexpectedly appeared in my head like lightening. This happened so quickly and suddenly that they, like lightening, burnt me with hellfire. Then such thoughts poured like a river through my consciousness. I was dumb from fear and horror. Something indescribable and inscrutable, horrible and strange, took place in my soul. These thoughts did not leave me after I went from church to my cell. These sufferings were indeed nothing of this earth, but of hell. I was deprived of food and sleep. Then days, weeks, months passed; a year, two, three, four passed, but these hellish thoughts continued to flow involuntarily, continuing to haunt me. I could find not a place of relief from the anguish and sorrow; I, the sinner, in my despair, even asked the Lord for death.
This mental warfare was indescribably difficult. Imagine the state of someone in battle, when two worlds are within you: one world is bright, of faith and hope in God and the burning desire for salvation; and the other, a world of darkness, instilling only destructive and blasphemous thoughts and disbelief. This unbearable warfare visited me especially when celebrating the Divine Liturgy. Standing at God's Altar before the Holy of Holies and pronouncing the prayer for the action of the Holy Spirit to consecrate the Holy Gifts, I was at that very same moment continuing to be overcome mentally by defiled thoughts of disbelief and doubt. Therefore my tears of repentance knew no boundaries. Even Hierodeacon Jonathan, who was concelebrating with me, seeing how bitterly I wept, considered me deranged of mind. He, of course, thought this out of ignorance. He did not know what was happening in the depth of my soul.
My only consolation and joy was, in my free minutes, to open the book of The Lives of the Saints to read about Niphont, the wonder-worker of Cyprus, who suffered similar thoughts for the course of four years. Destructive thoughts attacked me with special force on the twelve Great Feast Days. My nerves came undone by all this, and thoughts of despair and depression pursuit me everywhere. Losing control of myself, I was forced to hide from myself knives, forks, rope, and all other sorts of objects and weapons that could be used for suicide. I lack the words to describe everything, and the tears of horror and the suffering I endured. There were moments at night when I was unable to gain control of myself and ran out of my cell, went to the cathedral, and ran around it, sobbing, unable to wait until the minute when the cathedral would be opened and I could weep out my grief and unbearable hardship at the relics of St. Sergius.
I now remember the words of an ascetic: "Seek out for yourself an Elder and director not so much of holiness, but of experience in the spiritual life." I was able to test this advice on myself first of all. When in my great sufferings I turned to one spiritually respected person and told him of my mental grief, he listened and said: "What's wrong with you? Lord be with you, how can you give way to such thoughts?" I left misunderstood by him, neither alive nor dead from desperate sorrow. I did not sleep all night. In the morning, as soon as I had gotten onto my feet, I went, according to my responsibilities, to painting class, and on the way I came upon the leader of the painting studio, Hieromonk Micah. Seeing me upset, he cried out with astonishment:
"Father Kronid! What's wrong with you? You're unrecognizable! Your face has a special air of suffering, full of sorrows, unwittingly expressing you spiritual suffering. Speak, what's wrong with you?"
Then I told him of all my inner sorrows and thoughts. He listened with tears in his eyes, with a special feeling of compassion and Christian love, as if he himself were enduring these pains with me. He said: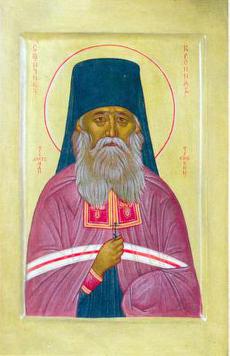 "Relax, Father Kronid. This great warfare, this unbearable enemy, happens to many people. We are not the first. Many, very many suffer from it. I myself suffered from this warfare for seven years and reached such a state that once, going to the Dormition Cathedral for Vespers, I could not even stay there due to thoughts of disbelief and blasphemy. Running out of church, I went to the cell of my spiritual father, Hieromonk Avraamy, all the while shaking and unable to speak. The Elder asked me a few times: 'What's wrong with you? What's wrong with you? Tell me.' After many tears all I could say was: 'Batiushka, I'm perishing!' Then the Elder told me: 'You are not delighting in these thoughts and are not pleased by them, are you? Why are you so intolerably alarmed? Relax! The Lord sees your spiritual martyrdom, and He will help you in all things.' Then he read the prayer of absolution over me, blessed me, and sent me away with peace, and from that day, with God's help, they have completely disappeared. They do sometimes appear occasionally, but I pay them no mind, and they disappear, and I calm down quickly."
Father Micah's words were like precious balm poured upon my soul, and from that time I have received a significant lessening of this mental warfare.
As we know from his life, Fr Kronid not only endured this onslaught of what today we might call major depression, but left this life with the crown of martyrdom. May his holy example of patience and longsuffering serve to encourage and strengthen us all!
Holy Hieromartyr Kronid, pray to God for us!
Source: ORA ET LABORA