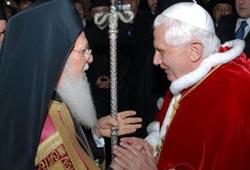 January 25, 2012. (Romereports.com) Benedict XVI received the leaders from several Oriental Orthodox Churches on the conclusion of the Week of Prayer for Christian Unity, to discuss the progress of talks between them to reach full communion. 
During the meeting, the Pope cited the communion and communication between all Christian Churches in the first five centuries as a model for the International Joint Commission, which began their work 10 years ago, to achieve further unity.
Benedict XVI also acknowledged the difficult situation many Orthodox Christians face in their native lands.
BENEDICT XVI
"Many of you come from areas where Christians, as individuals and communities, face painful trials and difficulties which are a source of deep concern to us all. Through you, I would like to assure all the faithful of the Middle East of my spiritual closeness." 
He made a call to peace for those affected regions and said all Christians need to work together and help each other out to achieve peace.
At the start of his remarks, the Pope also honored the leaders of some of the Oriental Orthodox Churches that passed away this year, like Shenouda III, former Pope of Alexandria.
During the meeting, Benedict XVI also received an Orthodox Christian icon of the Madonna as a gift.