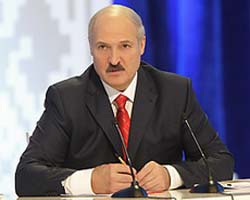 Minsk, February 27, Interfax – Belarusian President Alexander Lukashenko has sent a letter of respect and thanks to Pope Benedict XVI, the presidential press service told Interfax.
"Belarus took your decision to step down as the successor of St. Peter with understanding and a feeling of regret. The meaning of the pontiff mission was fully revealed in the years of your service. You never tired of fighting for the preservation of the moral values of Christianity, which are basic for resolving the issues of today's world, and you did everything to build bridges of mutual understanding, respect, and love between different countries, peoples, and religions," Lukashenko said in his letter to Benedict XVI.
Lukashenko said he remembers his meeting with Benedict XVI in the Vatican with satisfaction. "Your open stance and attention to our country, your assistance in the development of relations between the Holy See and Belarus made the people of Belarus respect and appreciate you," the president said.
Lukashenko thanked Benedict XVI and wished him heath, optimism, and God's help, the presidential press service reported.
Source: Interfax