Moscow, March 4, Interfax – Patriarch Kirill of Moscow and All Russia has thanked Pope Benedict XVI, who has stepped down form his post, for his uncompromising position on faith issues and wished him strength, the patriarch's press service reported.
"In these days, which are special to you, I would like to express feelings of brotherly love in Christ and respect," the patriarch said in his message to the pontiff.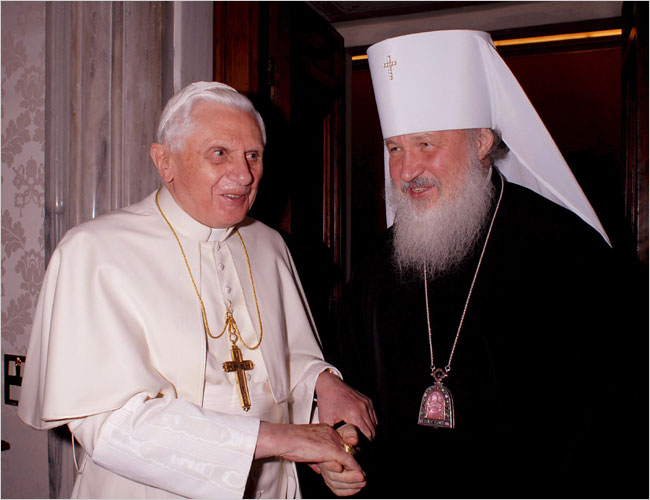 The patriarch said the decision made by Benedict XVI to step down from his post, which the pope announced "with humility and simplicity" on February 11, drew "a lot of response" in the hearts of millions of Catholics.
"Your uncompromising and consistent position on issues relating to faith and your adherence to the living church traditions have always been close to us. At a time when the ideology of permissiveness and moral relativism is trying to cause people to lose moral values, you boldly raised your voice in defense of evangelical ideals and high human dignity, calling on people to become free from sin," Patriarch Kirill said.
Patriarch Kirill said it is with warmth that he recalls his meetings with Joseph Ratzinger before his election as pope.
Patriarch Kirill believes the relations between the Russian Orthodox Church and the Roman Catholic Church, "which bear great responsibility for testifying Christ to the modern world," received "a new impetus" in the years of the service of Benedict XVI.
Patriarch Kirill said he is hoping "the good and close relations between Orthodox and Catholic Christians," which developed with active participation by Benedict XVI, will continue developing under his successor.
"Accept my sincere wishes of good health, long life, and God's help in your prayer and theological work," the patriarch said in his message to Benedict XVI.
Benedict XVI voluntarily left his post as pope on February 28. Such things have not happened in the Vatican for almost 600 years. The last pope to resign was Gregory XII in the 1415.
Benedict XVI intends to settle down in a monastery in the Vatican. He will not take part in church management and will dev vote his life wholly to prayer and thinking.
In his last address to believers, Benedict XVI said: "This day is different from other days. I will not be pope anymore, I will be a pilgrim undertaking his last stage of pilgrimage on this earth. This day has bought great joy to me. I am ready to serve God with all my heart, prayers, and thoughts, and all my internal forces. I bless you in the name of the Holy Spirit," he said.
Source: Interfax Religion