April 9, 2013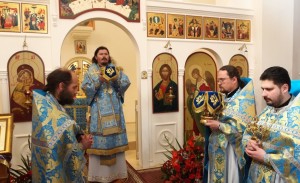 Bishop Nestor of Chersonese was on a pastoral visit to the capital of Catalonia, Barcelona, on April 6 and 7, 2013, timed for the patronal celebrations in the local Orthodox church of the Annunciation.
In the evening, on the eve of the great feast, the administrator of the Diocese of Chersonese worshipped during All Night Vigil celebrated in the church of the Annunciation by the rector of the parish, Hegumen Seraphim (Pavlov). He led the rite of the veneration of the Honourable and Life-Giving Cross of the Lord.
On April 7, the Day of the Annunciation, Bishop Nestor celebrated the Divine Liturgy of St. Basil the Great in the same church. He was assisted by Hegumen Seraphim, Archimandrite Avenir, Bulgarian Orthodox Church, and Fathers George Pinko and Vassily Stopyryak, Protodeacon Alexiy Sobolev and Deacon Victor Dorofeyev.
Among the worshippers was Yu. Klimenko, General Consul of the Russian Federation in Barcelona, the Chersonese diocesan website reports.
After the liturgy, Bishop Nestor addressed the parishioners and guests, greeting them on the occasion of the Annunciation Day.
He presented the parish with an embroidered cover for the lectern depicting the holy myrrh-bearing women.
Source: DECR Communication Service