His Grace, Bishop Paul led a pilgrimage to the Holy Land from May 26 through June 5, 2019, visiting the many holy sites and shrines associated with the life of our Lord.
His Eminence, Archbishop Theophanes of the Patriarchate of Jerusalem, accompanied Bishop Paul and those traveling with him for most of their journey.  Having lived in the Holy Land for over 55 years, Archbishop Theophanes provided a wealth of information based on his vast biblical knowledge and experience.
In addition to visiting and praying at multiple sites associated with the life of our Lord and the Church in the Holy Land, Bishop Paul and the pilgrims were warmly received at an audience with His Beatitude, Patriarch Theophilos III of Jerusalem, where they they visited the Patriarch's chapel and beautiful gardens.  His Beatitude and Bishop Paul, who greeted the Patriarch on behalf of His Beatitude, Metropolitan Tikhon, exchanged gifts, and each pilgrim was given a commemorative coin and icon as mementos of their visit.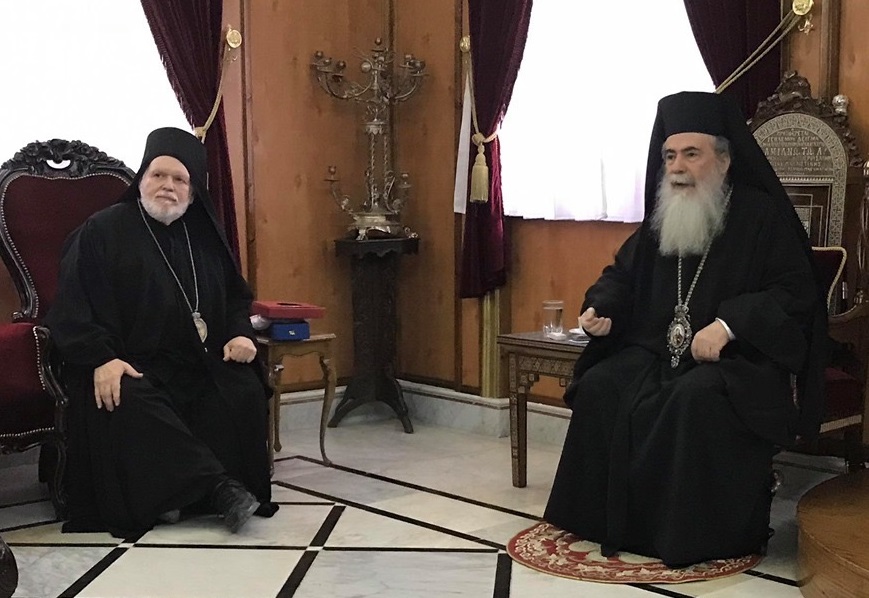 "I am most grateful to His Beatitude, Patriarch Theophilus, for blessing our visits to these sites and for giving us Archbishop Theophanes as a guide," said Bishop Paul.  "His Eminence opened many doorways for us.  Because of him, we as a group, were able to venerate such sites as the Nativity of our Lord and the Holy Sepulcher without excessive waits.  At all of these sites, I read the Gospel relative to the sites we were visiting.  Our entire group was grateful for the assistance of Archbishop Theophanes to make our pilgrimage a prayerful one."
While in the Holy Land, Bishop Paul celebrated the Sunday Divine Liturgy at the Russian Orthodox Monastery and Chapel of the Ascension [Russian Orthodox Church Outside of Russia].