IOCC has maintained a humanitarian presence in the region since 1998, and is continuing its work through ongoing initiatives to help these vulnerable families improve their farming techniques, raise their household incomes, and improve the learning environment for their children.
Kosovo is mainly a rural area with about two-thirds of the population living in remote villages. Most are small-scale farmers trying to eke out a living with limited farm equipment and an often unreliable water supply. Working with the Serbian Orthodox Church Diocese of Raška and Prizren, and Visoki Dečani Monastery, IOCC is helping local farmers extend their growing season with support for the production of new greenhouses and the digging of new wells to improve access to water.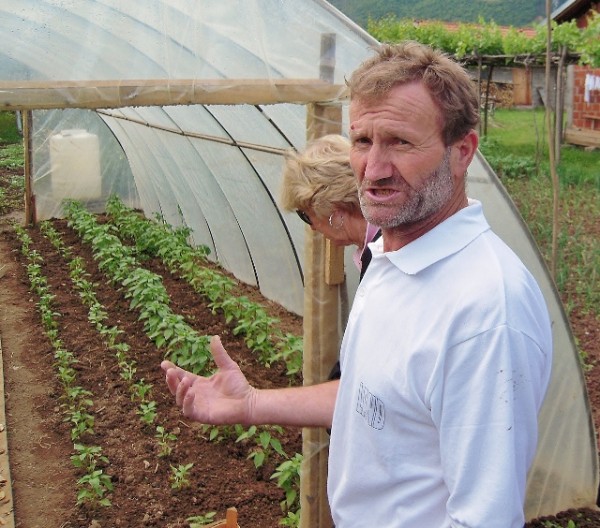 The education system in Kosovo is also seriously limited by a lack of adequate facilities and qualified teaching staff for primary and secondary students. The children who attend the primary school in Osojane live in the surrounding villages, with some traveling many miles to and from school on foot. Without regular jobs, most of the parents don't have the necessary financial means to provide a hot meal for their children. IOCC is providing assistance to the school kitchen to ensure that each day the children will have free, hot lunches.
This latest initiative, funded in part with generous support of a $50,000 matching grant from the George and Judy Marcus Family Foundation, is aimed at building resilient families and sustainable communities in non-majority enclaves of Kosovo, and to foster wider regional cooperation.
HOW YOU CAN HELP
Gifts made in support of the IOCC Kosovo Matching Grant Fund will be matched up to $50,000 by the George and Judy Marcus Family Foundation to help build resilient families and sustainable communities in non-majority enclaves of Kosovo. To make a gift, please visit www.iocc.org, call toll free at 1-877-803-IOCC (4622), or mail a check or money order payable to IOCC, P.O. Box 17398, Baltimore, Md. 21297-0429.
ABOUT INTERNATIONAL ORTHODOX CHRISTIAN CHARITIES
IOCC is the official humanitarian aid agency of the Assembly of Canonical Orthodox Bishops of North and Central America. Since its inception in 1992, IOCC has delivered $438 million in relief and development programs to families and communities in more than 50 countries. IOCC is a member of the ACT Alliance, and of InterAction, the largest alliance of U.S.–based secular and faith-based organizations working to improve the lives of the world's most poor and vulnerable populations. To learn more about IOCC, visit www.iocc.org.
Media contact: Rada K. Tierney, IOCC Media Relations, 443-823-3489, rtierney@iocc.org