His Beatitude, Metropolitan Tikhon, celebrated a Service of Thanksgiving in Camp Pendleton's Saint John the Forerunner Chapel, assisted by Father Jerome.  Concelebrating were Priest David Hostetler LT, CHC, USN, Camp Pendleton [Greek Archdiocese]; Archpriest Alexander Federoff; Priest Andrew Cuneo; and Protodeacon Joseph Matusiak.  Clergy from the Moscow Patriarchate, the Greek and Antiochian Archdioceses, and the Serbian Diocese also, together with Matushka Wendy Cwiklinski, their five children, and many chapel faithful also were present to honor Father Jerome.
Metropolitan Tikhon presented Father Jerome and Matushka Wendy with the Order of Saint Innocent, Silver Class, and a Synodal Gramota.
US Navy Chief of Chaplains, Admiral Kibben, conducted the retirement ceremony in the presence of Metropolitan Tikhon and the clergy and faithful and numerous Generals and retired Generals.  Father Jerome was presented with a letter of thanks from President and Mrs. Barack Obama.
"I have to pay tribute to those on whose shoulders I stand, who came before me," said Father Jerome, who addressed the gathering while thanking his devoted family.  "It is because of their sacrifices that I am where I am today.  Among them were the late Bishop Boris Geeza, a predecessor of mine who, after retiring from the Navy, became Bishop of Chicago—it is his chapel here whose legacy I inherited—and Metropolitan Tikhon, my endorser.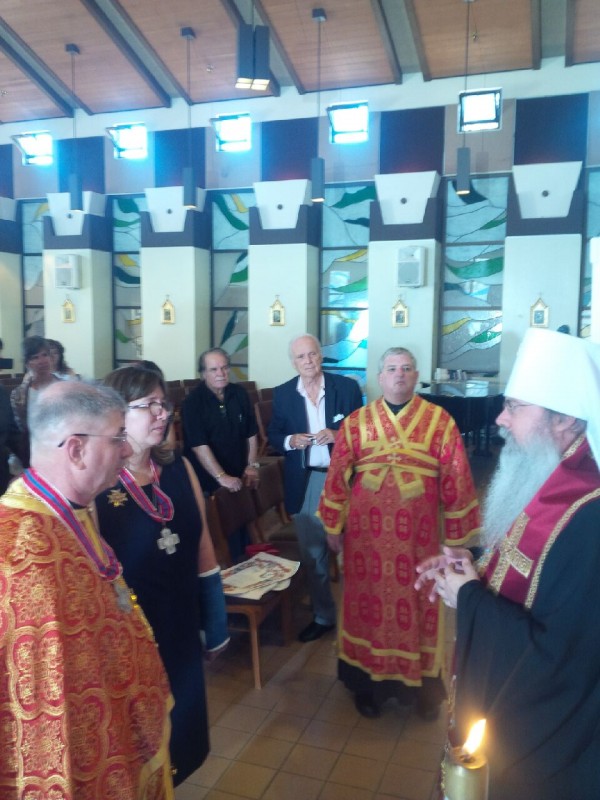 "It's been a privilege to serve with you," Father Jerome continued, thanking his fellow chaplains.  "We learn from one another and carry each other's burdens.  We care for one another's flock as we are allowed to, and if I would impart any advice to current and future chaplains, it would come from my time as an enlisted Marine having empathy with sailors and guardians.  In many situations, you will see those people invested with great responsibility, and it is important that we as chaplains, often having come to the service later in life, trust them, not despise their youth, and exploit their zeal that they can output.  They are the ones who do the heavy lifting.  They are the ones who stand in harm's way.  You can rely on them.  Please do!
"And finally, I want to share one of the many blessings I received during my time," Father Jerome concluded.  Often, while on my way to Iraq or Afghanistan, I stopped in Landstuhl Medical Center in Germany to visit those in higher level care.  When we evacuate people from Iraq and Afghanistan, it is there that they receive treatment.  A few years ago, I was there visiting soldiers from Georgia.  I came into the room and declared, in Georgian, 'Christ is Risen!'  And the one soldier being cared for there stood up and responded, 'Indeed, He is risen' and made the sign of the cross.  The thing is, this soldier had no legs.  They had been amputated at the knees.  And this soldier's right arm had been amputated at the elbow, but with his phantom hand he traced the sign of the cross over his body.  These are the blessings of serving as a chaplain.  And these are the blessings to which I am thankful to God."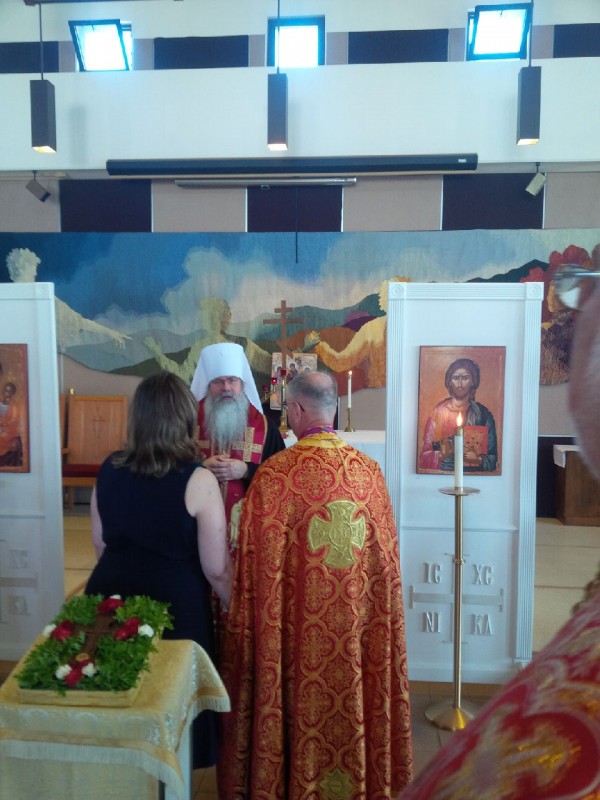 A native of Buffalo, NY, Father Jerome joined the US Marine Corps immediately after his 1972 graduation from high school.  As a Marine, he served in infantry, reconnaissance, embassy security and, after commissioning, administration.  He deployed to the Mediterranean and the Caribbean, and was stationed in Europe as well as the Far East.  He was released from active duty in 1982 to pursue his vocation to the Orthodox Christian priesthood.
Commissioned in the US Naval Reserve Theological Student Program (Chaplain Candidate) while in seminary, he attended the Naval Chaplains School at Newport, RI, in 1984.  He was ordained to the diaconate and priesthood by His Beatitude, Metropolitan Theodosius, in 1985, reentering active duty the following year.  As a Naval Chaplain, he has served five tours with the Marines, two with the Coast Guard, and two with the Navy.
After his ordination, he served the US Military Academy, West Point, NY, until his return to active duty.  While assigned to the Chief of Chaplains Office, he provided weekly liturgical services at the US Naval Academy, Annapolis, MD.  While with the Coast Guard in Alaska, he volunteered as priest-in-charge of Saint Nicholas Church, Juneau, from which he established a mission for Bosnian Serb refugees in nearby Whitehorse, Yukon Territory, Canada.  He was attached to Saint Spyridon Greek Orthodox Church, Newport, RI, during War College and, most recently, to Our Lady of Iveron Russian Orthodox Church, Honolulu, HI.  He enjoyed a long tenure as pastor of Saint John the Forerunner Chapel, Camp Pendleton, CA, from 1986 to 1988, and again from 1999 until 2013.
After the fall of communism, he participated in early efforts to help reestablish chaplaincies in the former Eastern Bloc.  In 1992, he participated in combined exercises with the Russian Northern Fleet and celebrated Orthodox services on their base near Murmansk.  He later made significant inroads with the Russian Naval Border Guard in its exchanges with the US Coast Guard in Alaska.  He provided liturgical services to the forces of Bulgaria, Romania, Estonia, Ukraine, and the Republic of Georgia deployed in the Global War on Terrorism.  He also kept to an ambitious circuit to serve Orthodox Christian faithful among our own forces.  His wartime service includes the liberation of Iraq, the battle for Fallujah, and support of several campaigns in Afghanistan.
In Alaska, his official military travel to cutters and stations throughout the state allowed him access to Orthodox villages long without priests.  He helped organize humanitarian missions to these remote communities and helped bridge the gap between cultures.  These efforts aided government reconciliation with native communities harmed during the Aleutian campaign of World War II and incidents that occurred in the 19th century.
Father Jerome served as Force (Corps-level) Chaplain for I Marine Expeditionary Force and, at the next higher echelon, as senior Marine component Chaplain for Central Command, Pacific Command, and Korea, as well as senior Coast Guard Chaplain for the Pacific.  He earned a Bachelor of Arts degree in Anthropology (Magna cum Laude) from the University of Maryland, University College (1983); a Master of Divinity (cum Laude) from Saint Vladimir's Seminary, Yonkers, NY (1986); and a Master of Arts in National Security and Strategic Studies/Foreign Affairs from the Naval War College, Newport, RI (1999).
His military awards include the Legion of Merit, Meritorious Service Medal (4), the Defense Joint Service Commendation Medal, Navy and Marine Corps Commendation Medal, Coast Guard Commendation Medal, and several unit citations and campaign medals.  He is the recipient of several ecclesiastical awards, including the rank of Archpriest, the Cross of Saint Herman, and the jeweled cross.
Father Jerome and his wife, the former Wendy Michelle Pricket of Vicksburg, MS, married in 1984 and have five children—Sophia, Anastasia, George, Theodora, and Tatiana.  He is third generation Navy and the first of two generations of Marines.
May God grant many years to Father Jerome and his family as he begins a new chapter in his life and ministry!