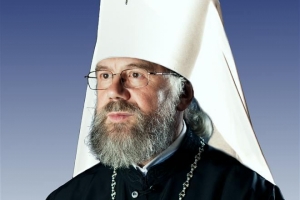 Metropolitan Avhustyn of Bila Tserkva and Bohuslav, chairman of the Synod of the Ukrainian Orthodox Church (Moscow Patriarchate) in cooperation with the Armed Forces and other military formations of Ukraine, has initiated an emergency meeting of the Military Command Council with the Council for Matters of Pastoral Care of the Ministry of Defense. He said this in a comment on Russia's intervention in Ukraine.
The metropolitan initiates an emergency meeting of military commanders with the Council for Matters of Pastoral Care of the Ministry of Defense of Ukraine so that "people in uniform and in the Defense Ministry and the General Staff of the Armed Forces of Ukraine hear the word of the clergy and blessing of various churches, whose members serve in the Ukrainian army."
The Chief Chaplain of the UOC-MP said: "As a 'military' metropolitan it is my duty and conviction to unequivocally bless our troops to defend the homeland. If there was a discussion now with people who not only tolerate the invasion of the Crimea, but who try to justify this move, then I as a bishop, an Orthodox bishop – from one church, one faith with the Russians – would never give my blessings to the Ukrainian soldiers to give away their weapons, let alone turn on their countrymen. We did not go to Rostov-on-Don, or Smolensk. There is a state border, which the Russian Federation recognizes, there are intergovernmental documents about its inviolability, and therefore there can be no doubt that the Ukrainian soldier must keep this oath."
According to the metropolitan, in "these difficult conditions the Ukrainian soldier feels spiritually right. But how can Russian soldiers and officers obey orders? I do not envy the priests on the other side, our brothers in the faith, with whom I am sure I have been acquainted and have spoken."
The hierarch hopes that the first shot, which would inevitably lead to bloodshed, will not be made.