On the eve of the commemoration day, the All-Night Vigil was celebrated by Archbishop Amvrosy of Peterhof, rector of the St. Petersburg theological academy and seminary.
With the blessing of His Holiness Patriarch Kirill of Moscow and All Russia, Archbishop Amvrosy officiated at the Divine Liturgy celebrated on the feast day.
Ambassador Alexander Avdeyev of the Russian Federation to the Vatican, Ms Tatiana Shumova, dead of the Directorate of international programs of the Russia Cultural Foundation, and other high guests attended the divine service, after which Archbishop Amvrosy and his concelebrants conducted a prayer service at the shine with a particle of the relics of St. Catherine the Great Martyr.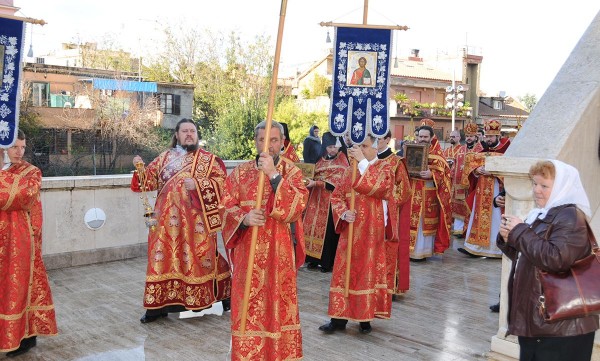 After the procession with the cross, Archimandrite Antony (Sevryuk), rector of the church, addressed Archbishop Amvrosy. He thanked the hierarch and noted the importance of St. Catherine's feat for exhortation of the believers living in the Eternal City by God's will.
Archbishop Amvrosy conveyed blessing of His Holiness Patriarch Kirill to the clergy and parishioners and wished them peace and prosperity.
That same day, a choir of clerics of the Moscow region diocese gave a concert at the Basilica of St. Mary of the Angels and the Martyrs. The guests enjoyed pieces of the Russian Orthodox music and Russian folk songs.