Hi, I am Sr. Vassa and I am having my coffee before going to work today in Vienna in Austria. I am drinking my coffee black as usual because, they say, – black never goes out of style.
Before I go to work today, I am looking in my Church calendar. In case you didn't know, this week October begins, and September ends. So, today I will be reflecting on a feast that occurs in the Russian Orthodox Church on October 1, called the Protection of the Mother of God; in Greek  Scepitis Theotocou.  The history of this feast is different in the Greek and Russian Orthodox Churches, but the meaning is essentially the same: it celebrates the prayers of the Virgin Mary, of the Mother of God for the all of us.
In the Russian Orthodox Church it is a very important and beloved feast. Many Russian churches are dedicated to the Protection of the Holy Virgin and also many well –known churches, including the cathedral in Red Square (Church of "Basil the Blessed").
The history of this feast in the Russian Church is complicated and with contested meanings that some historians disagree about its exact origins. In any event, the feast celebrates the vision of the Holy Virgin that occurred in a Church of Blachernae in Constantinople in early 10th century during the Liturgy when the church was packed with people. The Mother of God appeared to St. Andrew, the Fool-for-Christ, and to his disciple, St. Epiphanius. She appeared above the crowd that was praying in the church, surrounded by many angels and saints. First, the Mother of God prayed at the Altar for all the people, then, as St. Dimitri of Rostov describes it, "She took off the great and awe-inspiring cover, which She wore on Her most-pure head, and, holding it with great solemnity, with Her most-pure hands, extended it over all the people. Now, although this vision occurred in Greek-speaking Constantinople, it ironically came to be celebrated as a great feast in the Church of Rus'.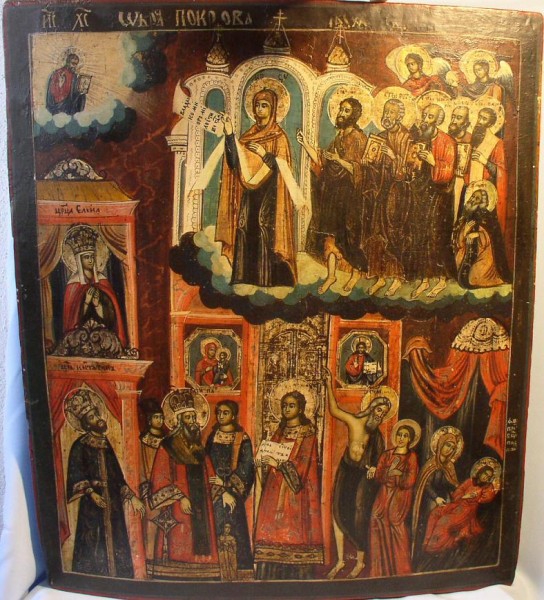 Most historians attribute the introduction of the feast to Prince Andrei Bogolubsky of the late 12th c. Now, you might be asking, if you haven't switched to a different YouTube channel because of all this history. Why would Prince Andrei introduce a feast that the Church of Constantinople did not have? After all, the Church of Rus' was baptised by Greek-speaking missionaries, and in fact, in the 12th century had Greek bishops. That's why even today we sing to our Russian bishops Eis polla eti, despota! in Greek, because originally our bishops understood that language.  The thing is, that Prince Andrei is said to have tried to obtain more cultural independence for his people. He wanted his people to have their own customs, and their own, independent tradition. In fact, he even tried to elevate his own bishop, or metropolitan, named Theodore, independent of the Kievan church. But of course, the Patriarch of Constantinople, did not agree to this. So, Andrei did not succeed in establishing culture independence in his land, because in fact, culture independence does not exist. Especially not in a last 1000 years. Every tradition, you see, has been and is, influenced by other traditions. Interestingly, even this beautiful church ("Pokrova-na-Nerli" Church), which Prince Andrei had built in honour of the new feast of the Protection, was built  by foreign builders from the Latin West. They were sent to Prince Andrei by Friedrich Barbarossa- the famous crusader and Emperor of the Holy Roman Empire. But that's just a fun fact.
Concerning this feast in the Greek-speaking churches today, it is commemorated on October 28th, not October 1st. In the Greek-speaking churches it is commemorated on the Greek national holiday called Ochi-Day. And the feast, the church feast, is associated with thanksgiving for the deliverance of the Greek nation from the Italian invasion of 1940, because of the miracles reported by many Greek soldiers, – miracles of the Holy Virgin during the Greco-Italian War of 1940-1941.  But that's enough about the historical side of this feast.
Now let's talk about the main aspect of it, and that is: the prayers of the Mother of God. We hear about the prayers or intercessions of the Mother of God at the beginning of Byzantine Divine Liturgy in the 1st Antiphon: "Through the prayers of the Mother of God, Saviour, save us". We might tend to mystify, or imagine, these prayers of the Virgin Mary, as if they occur in a galaxy far-far away… But the Gospel actually gives us a very human example of her intercessions for other human beings, in the well-known passage about the wedding in Cana in Galilee:
"On the third day there was a wedding, and the mother of Jesus was there. Jesus and his disciples were also invited to the wedding. And when they ran out of wine, the mother of Jesus said to Him: They have no wine. Jesus said to her: Woman, what (is that) to me and to you? My hour has not yet come. His mother said to the servants: Do whatever He tells you to do".
And after that, as most of you probably will know, He tells the servants to fill six jugs with water, and turns this water to wine, performing his first public miracle.
What is of interest to us in this passage right now is how Mary approaches Her Divine Son, – and how He reacts. First of all, She obviously knows more about Him than others do. She knows He can do something about the wine-situation, and She has complete faith that He will do this, despite His somewhat off-putting answer. Because He lets Her know that Her request is made at an inappropriate time. He says, "My hour is not yet come, and, Woman what is that to you and to Me?"
Now, let me note that Christ is not being disrespectful to His mother by calling Her "Woman". In the language which Jesus spoke this was the equivalent of the English "ma'am". Similarly, He said to His mother, as you may remember, from the cross: "Woman, behold, your son". He uses this term, actually, several times to address women, like Syrophoenician woman, and the Samaritan woman. He also incidentally uses the term "man", "anthrope", to address man as in: "Man, your sins are forgiven you!" in Luke 5:20.  Nonetheless, Jesus does indicate the impropriety of His mother's request at the wedding in Cana. And yet, he fulfills this request. He also fulfills another inappropriate request, for another woman – already mentioned Syrophoenician or Canaanite woman, who calls after the Lord as He's walking with His disciples, begging Him to heal her daughter. Jesus first ignores her, and indicates to His disciples the impropriety of her request. But finally, when she persists, He praises her faith: "O woman," He says, "great is your faith", and heals her daughter.
From all this we can observe the very awkward fact, that impropriety is no obstacle to prayer.  The rules of liturgical propriety that we observe in our prayer; the outer forms like liturgical texts, the proper prostrations, the proper clothing…all these things doubtlessly have their place and their reasons. But we should not forget that these are no more, and no less, than outer forms. The Mother of God, the model of Christian prayer, makes a request of Her Son at an inappropriate time in Cana of Galilee. Then, at the church in Blachernae in Constantinople in Her vision, She removes Her head covering  – Her vail – in church to demonstrate Her protection of us, despite of the impropriety some of us might perceive in this. Because, as it turns out, our sense of impropriety is no obstacle to prayer. And that's out Thought of the Day.