March 11, 2013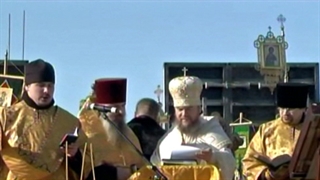 Hundreds of people gathered in Narva on Sunday the for the laying of the cornerstone of a Russian Orthodox church dedicated to Saints Cyril and Methodius, reported ETV.
The new church, which belongs to the Estonian Orthodox Church of Moscow Patriarchate, will be the third orthodox place of worship in Narva.
Narva had seven orthodox churches before the 1944 bombing raid that all but flattened the city. Bishop Laatsarus of the Narva and Peipsiveer diocese said that he hopes the new church will help Narva regain some of its past spirituality. "Narva was a very spiritual city and churches were always full. In the present day, churches are packed during religious holidays, but they remain detached from the people," he said.
"Older worshipers have difficulties traveling to the services and for that reason we are building the church closer, in Narva's residential areas," he added.
The church is scheduled open its doors this time next year.
Source: ERR Estonian Public Broadcasting