April 8, 2013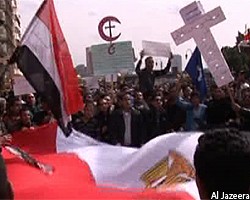 Egyptian President Mohamed Mursi sought to contain growing turmoil after Muslim-Christian clashes turned deadly again outside a cathedral where Copts mourned four killed in weekend fighting.
The worst sectarian violence in months has added to the chaos that has convulsed Egypt since Mursi's election in June. The Islamist president is under assault from an array of critics frustrated by political instability and a stalled economy. He is also embroiled in a deepening dispute with the judiciary and seeking to end a strike on the country's railways.
The attack by unknown assailants yesterday came as services were being held St. Mark's Coptic Orthodox Cathedral for four Christians killed in fighting that started late on April 5 in the Greater Cairo town of Khosous. Rocks and bottles were hurled at mourners in a melee outside the cathedral, and one person died while 84 were injured, the state-run Middle East News Agency reported.
Mursi reached out to Coptic Pope Tawadros II, telling him in an evening phone call: "I consider any aggression against the cathedral as aggression against me," the presidency said in a statement on its Facebook page.
Egypt's Copts, long disadvantaged under Mursi's ousted predecessor Hosni Mubarak, have voiced concerns about the Islamists' growing power. At yesterday's services, many called for Mursi to quit and denounced him as a "puppet president" for the Muslim Brotherhood, which fielded him for office.
'Desperate Attempts'
The violence is the latest in a series of "desperate attempts to subvert our national unity," the Brotherhood's supreme guide, Mohammed Badie, said on the group's website. "They will not succeed, God willing."
Mursi and the Brotherhood have frequently blamed violent episodes on unidentified people they say are seeking to destabilize Egypt.
The recurring unrest has undermined Mursi's efforts to revive an economy damaged by the flight of investors and tourists after the 2011 uprising against Mubarak. Rising inflation, triggered by a slump in the currency, shortages of fuel and other goods and growing poverty and unemployment have fueled protests against him.
The sectarian clashes in Khosous resumed overnight with two houses in the area set ablaze, the state-run Ahram Gate reported.
Reports about what triggered the initial fighting were contradictory. According to one account by local police, Christian boys were caught defacing the outside wall of a mosque.
Mourners Attacked
Cairo police Major Mohamed Hassan said by phone that residents of the neighborhood housing St. Mark's Cathedral hurled rocks and bottles at mourners as they left the service yesterday. Copts at the scene said that as they left the church, they were assaulted with rocks. Riot police fired tear gas to disperse the crowds.
Some worshipers retreated back inside the church, Ishak Ibrahim, a researcher who monitors religious freedom at the Egyptian Initiative for Personal Rights, said by phone.
"Security forces have been very unresponsive since the start of this," he said. "We never know who is behind any of the sectarian incidents."
Mursi ordered an investigation into the latest incident. He has repeatedly said it was a priority to ensure that the Christians who make up about 10 percent of the population are afforded equal opportunities.
Critics say those pledges haven't translated into action, pointing to Mursi's focus on pushing through an Islamist-backed constitution that many Christian and secular groups opposed.
Rail Strike
The president's approval rating has dropped to 47 percent after nine months in office, from 78 percent after his first 100 days, according to a Baseera opinion poll conducted in March.
The strike by train drivers and conductors that has paralyzed most of the nation's railway system is the latest example of the protests that have dogged Mursi's rule.
Authorities referred striking workers for investigation so legal action could be taken against them, Hussein Zakariya, the head of the country's railway authority, told MENA.
Mursi's attempts to consolidate his power have also put him into repeated conflict with Egypt's judiciary. Yesterday, the Supreme Judicial Council urged the top prosecutor Talaat Abdullah to abide by a court ruling annulling his appointment, saying it would help to restore unity in the judiciary, MENA reported.
Removing Abdullah, a Mursi appointee, has been a main demand of Egypt's secular opposition.
Source: Bloomberg